Ethics committee to interview FIFA president Gianni Infantino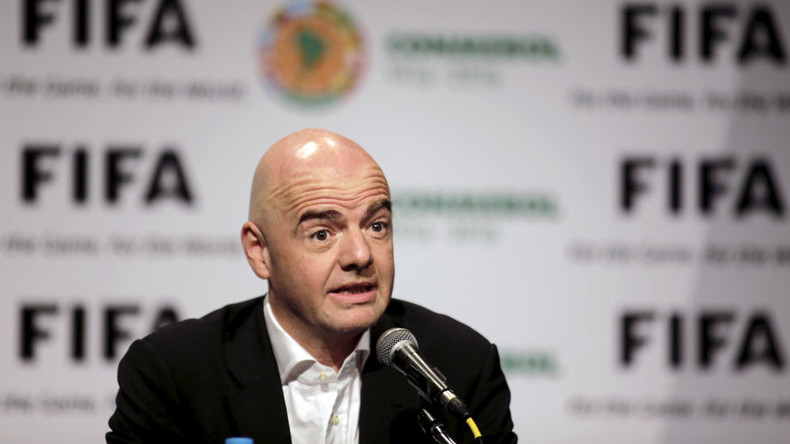 FIFA president Gianni Infantino is set to be interviewed by a member of the organization's ethics committee to address questions that have been raised about his use of resources and hiring choices.
The Swiss executive was named as the governing body's new chief following an election in February and has been handed the sizeable task of restoring FIFA's tarnished reputation.
READ MORE: FIFA elects Gianni Infantino as new president
Infantino's alleged misdemeanors include using private jets provided by countries bidding to host the World Cup, billing FIFA for personal items, and not being strict enough when filling senior roles within the organization.
A FIFA spokesperson said the president would comply with the ethics committee's wishes.
"The FIFA president has stated publicly he fully respects the independence and work of the ethics committee and that he would provide, if required, whatever information necessary to facilitate any potential review by the committee," he said.
"The president has made clear that he has acted appropriately and in accordance with FIFA's code of ethics."
Infantino's acceptance of flights on private jets arranged by both Russia and Qatar to their respective countries could be deemed a conflict of interests.
Bbc.com also reports that FIFA has covered the costs of a number of pricy purchases at the president's request.
These include $11,626 for mattresses at the executive's home, $9,027 for a new stepper exercise machine, and $1,435 for a tuxedo.
Other questionable costs include $894 for flowers and $174 spent on laundry.
Finally, Infantino is said to have filled senior roles within FIFA with candidates who do not meet the eligibility criteria, including new secretary general Fatma Samoura.
Controversy surrounding Infantino follows the resignation of former FIFA audit and compliance head Domenico Scala and the dismissal of acting secretary general Markus Kattner in May.
Not helpful to see internal squabbles being aired in public, FIFA image at an all time low, but change still needed https://t.co/UFo4ARgXJ7

— Patrick Nally (@patrick_nally) July 14, 2016
It is believed that Infantino's meeting with Robert Torres, a member of the investigatory chamber of FIFA's ethics committee, could take place as early as Friday.
Should enough evidence be collected implicating the 46-year-old in ethics violations, a full investigation could be launched. A 90-day suspension could also be handed down under current circumstances.
Infantino is said to be confident that no action will be taken against him and denies any wrongdoing.