FIFA elects Gianni Infantino as new president
Published time: 26 Feb, 2016 17:01
Edited time: 26 Feb, 2016 17:42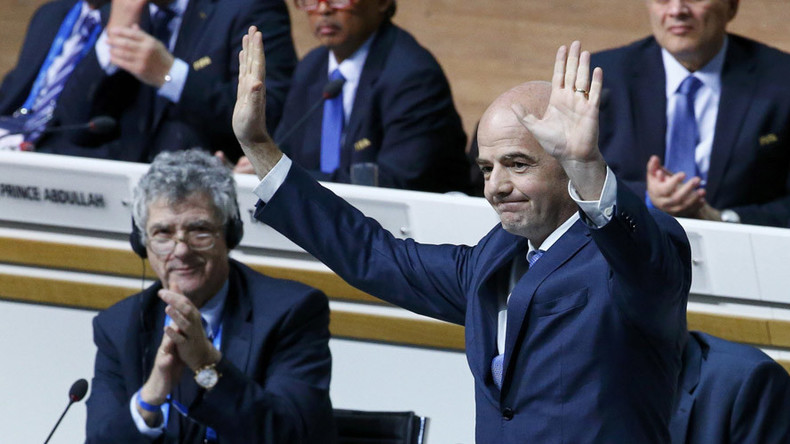 FIFA has chosen Gianni Infantino as its new president. The Swiss won 115 votes, beating his nearest rival Sheikh Salman al-Khalifa, from Bahrain, who claimed 88 votes.
Infantino will replace disgraced outgoing president Sepp Blatter, who had held the position since 1998 but was forced to resign last year amid a growing corruption crisis surrounding the organization.
Infantino, 45, has been a prominent figure in European football body UEFA for over 10 years, and previously worked in the role of general secretary of the organization.
He won the FIFA vote in the second round, after the first round failed to produce the required two-thirds majority, with Infantino gaining 88 votes, Sheikh Salman winning 85, and other candidates Jordanian Prince Ali bin al-Hussein and Frenchman Jerome Champagne getting 27 and 7 votes respectively.
Sheikh Salman, the head of the Asian Football Confederation, was widely tipped by bookmakers to win the vote, but was beaten into second place. He was tainted by alleged human rights abuses connected with the suppression of protests in his native Bahrain several years ago, which were part of the so-called Arab Spring. Despite denying the claims, they may have damaged his cause.
Infantino has called for wide-ranging reforms to FIFA, including a much-discussed proposal to increase the World Cup to 40 teams. He has also pledged to allocate additional funds to football development for all member associations.
He gained big support from European and South American delegates, and had earlier received the very public backing of associations including the English FA.
FIFA delegates are meeting at an extraordinary conference after Blatter was forced to resign in June, 2015, amid a growing corruption crisis that saw senior members of the organization arrested. Blatter had won re-election in May, but his position quickly became untenable and he was personally accused of corruption over a 'disloyal payment' made to UEFA counterpart Michel Platini.
READ MORE: Sepp Blatter's ban reduced, FIFA election to go ahead as planned
Blatter yesterday had a ban upheld which prevents him, along with Platini, from participating in football-related activity for six years – although the ban was reduced from an initial period of eight years.
Earlier at the FIFA congress, delegates approved a wide range of reforms to the organization, including a three-term limit for the president, the mandatory disclosure of salaries for senior FIFA officials, the creation of a new, elected FIFA council to replace the current executive committee, and promises to promote more human rights in football, including commitments to boosting women's football.
Other contenders for the position were South African Tokyo Sexwale, who withdrew from the contest before voting started, Frenchman Jerome Champagne, and Prince Ali Bin Al-Hussein, the brother of the King of Jordan.
READ MORE: FIFA election: Your guide to the 5 candidates hoping to become president
Infantino will have a big task on his hands if he is to restore credibility to FIFA, and many have called for root-and-branch reforms that ensure the organization can enter a new era of transparency and regain trust from football fans around the world.