FIFA election: Your guide to the 5 candidates hoping to become president
Published time: 25 Feb, 2016 11:10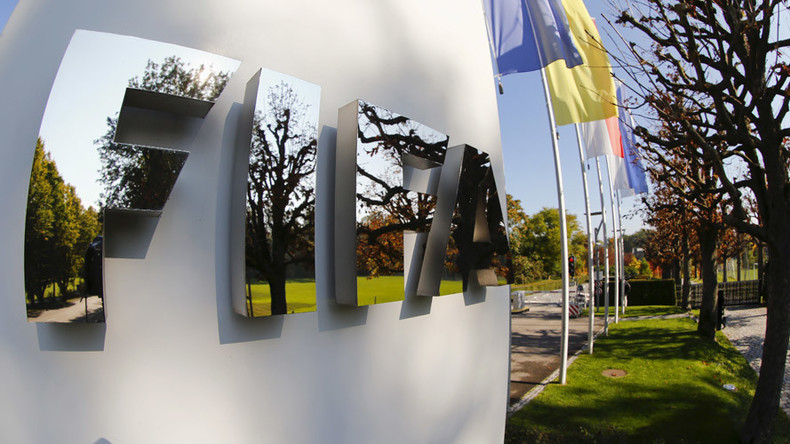 It's been a controversial last 12 months for FIFA, with a host of arrests and bribery scandals shaking football's world governing body to its core. We take a look at the five candidates looking to turn the organization around if voted in as president in Friday's election.
With former president Sepp Blatter and the previous frontrunner for his replacement Michel Platini mired in a corruption case, Friday's presidential election in Zurich gives the body a chance to start afresh.
Confidence in FIFA is at an all-time low and sponsors are walking away from the game, and as a result a strong new leader is needed to regain credibility.
READ MORE: FIFA braced for further FBI arrests ahead of presidential elections

Here are the five candidates:
Gianni Infantino
Like Blatter, the 45-year-old was born in southern Switzerland and is one of the frontrunners for the presidency.
Infantino has been a prominent figure in UEFA for over 10 years and has fulfilled the role of general secretary of the European body.
Given his already established links, the administrator can expect to receive plenty of votes in Europe, with a host of nations already pledging their support for him.
The Swiss will also hope to receive South American votes, but whether all members of CONMEBOL back him remains to be seen.
His much-discussed proposal of increasing the World Cup to 40 teams could well be a draw card for fringe nations across the globe, while Infantino has also pledged to allocate additional funds to football development for all member associations.
Given his affinity with Platini at UEFA, there could be a feeling that electing Infantino is not a clean break from the tainted figures that have been in power in recent years.
Tokyo Sexwale
The South African billionaire has arguably the fewest links to football, which could be seen as both a good and bad thing.
Sexwale was imprisoned alongside Nelson Mandela on Robben Island before being part of the post-apartheid government in the African country.
The 62-year-old made his fortune in oil and diamond mining, and he has promised to have an open-door policy should he be elected.
Sexwale played a role in the organizing committee for the 2010 World Cup in his homeland, which interestingly is under investigation for alleged kickbacks paid during the bidding process.
While the South African's manifesto does not have a stance on anti-corruption, Sexwale has stated that national teams should be allowed to make revenue through the sale of sponsorships on team strips.
An underwhelming election campaign means he is a considerable outside bet.
Jerome Champagne
The Frenchman is a former FIFA deputy secretary general and spent over 10 years in the governing body's inner circle before being ousted in 2010.
Champagne has made his desire to get back involved with the organization clear, with a willingness to stand at last year's election not happening due to a lack of nominations.
His stance is that the World Cup should not be increased to 40 teams, while he has promised that the current grants system will be reassessed.
With the existing system distributing money evenly between nations, Champagne wants to change this so poorer members receive most of the funds.
A former ally of Blatter, there has been little talk of Champagne becoming FIFA's new president and it would be a major surprise if he were elected, given the lack of public support for him up until this point.
Prince Ali Bin Al-Hussein
The youngest of the five candidates, Prince Ali is the brother of the King of Jordan and has been vocal in the need for FIFA reform, which has seen him ostracized in some quarters.
The 40-year-old has been involved with the organization for some time in a vice-presidency role, while he was also unsuccessful in ousting Blatter at May's election.
Prince Ali has stated that he supports an expanded version of the World Cup but has been vague in stipulating how many extra teams he feels should compete.
The Jordanian has also stated that he would increase member grant allocations and wants to give more power to the grassroots of football.
He can count on the support of a number of nations but his fate is likely to rest on those countries and associations that are yet to pledge their allegiance to any candidate.
He moved to have Friday's election postponed after his request for transparent voting booths was rejected by FIFA.
Sheikh Salman Bin Ibrahim Al-Khalifa
Arguably the frontrunner for success, the current president of the Asian Football Confederation can most likely count on the support of the majority of the nations in the world's biggest continent.
Sheik Salman is also a FIFA vice president and he has raised a few eyebrows by stating that the organization should be split into two separate entities.
The 50-year-old proposes that there needs to be a financial department to deal with the commercial side of the body, while a footballing component would deal with sporting matters.
Sheik Salman has stated that he would adopt more of an ambassadorial role should he be elected and would delegate power to those beneath him.
A member of the Bahraini Royal family, he has not been without controversy and has had to face allegations of complicity in humans rights abuses in his homeland.
Conclusion
FIFA is in desperate need of a fresh face that can lead the organization forward and regain widespread confidence in its ability to impartially govern the world's most popular sport.
Infantino and Sheikh Salman are the two favorites and it will surely be one or the other that is elected to replace Blatter.
With reforms set to take place regardless of which candidate is successful, here's hoping that the FIFA of the future is more functional, transparent and honest.