Euro trash talk: Ronaldo's mom kickstarts social media attacks on Payet over son's injury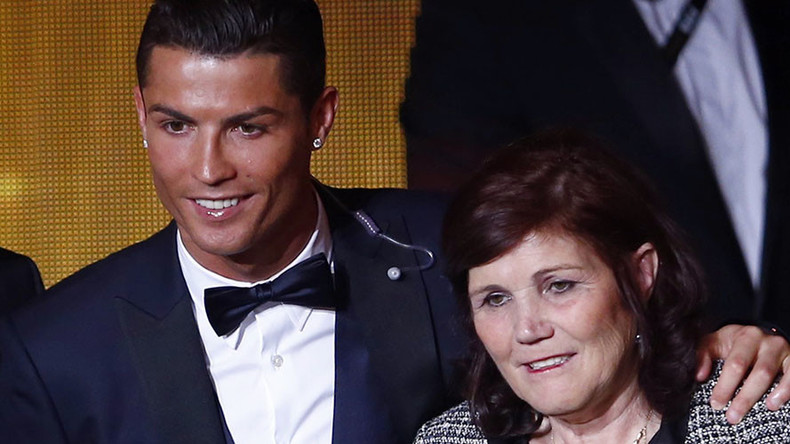 Cristiano Ronaldo's mother has led a barrage of social media attacks on French forward Dimitri Payet after his tackle forced her son out of the Euro 2016 final.
Dolores Aveiro took to Twitter during the France-Portugal showdown to blast the French player's actions saying "I cannot see my son in this way. The game is to kick the ball and not hurt the opponent."
Payet tackled Ronaldo 25 minutes into the game at the Stade de France, injuring the Real Madrid star's knee. The Portuguese captain tried to soldier on but was eventually forced to leave the pitch in tears, carried off on a stretcher.
Ronaldo's mother kept faith in the team, however, expressing her belief that Portugal could pull off the victory, even without their talisman.
READ MORE:Ronaldo's emotional rollercoaster: Internet reacts to Portugal's Euro 2016 victory
The Portuguese went on to defeat the hosts 1-0 and Ronaldo lifted the trophy. His sheer joy was clear for all to see after what had been an emotional rollercoaster of a match for him.
This, however, did not stop people trolling the West Ham midfielder with hateful comments.
Payet was also inundated with threats and insults to his Instagram account, with the number of comments under his last post surpassing 300.000 within a day of the match.
The footballer has insisted he did not intend to hurt Ronaldo. "No, it was a challenge, that's all, period. I regained the possession and if I hurt him it was not intentional," he told reporters after the match.
"It's not in my nature to be a bad guy on the pitch. There is no question about it."