Cristiano Ronaldo accused of being disrespectful after shock draw with Iceland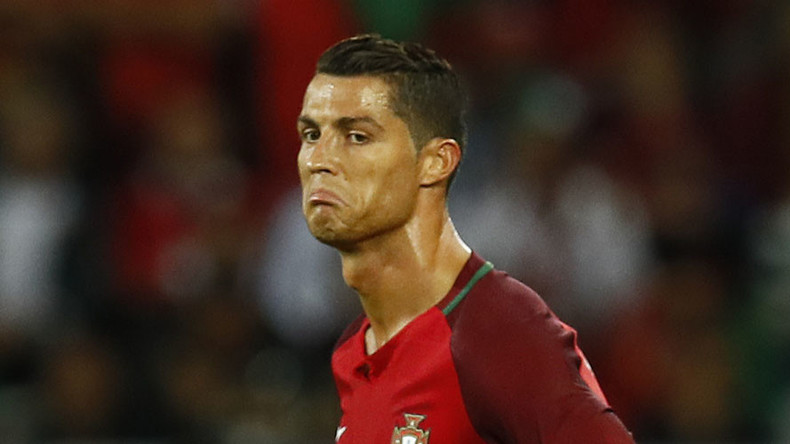 Portugal star Cristiano Ronaldo has come in for criticism after saying the Icelandic team has a "small mentality," following the two teams' shock 1-1 draw at Euro 2016 on Tuesday night.
Iceland's population is just 300,000, Ronaldo's Twitter following is over 43 million, yet the tiny nation managed to secure a draw against the might of CR7 and Portugal in Saint Etienne.
The stats on the differences between Ronaldo and the Iceland team are huge and could fill thousands of column inches.
Ronaldo cost Real Madrid $120 million – more than four times what Iceland's 23 players in their Euro 2016 squad cost combined (little less than $30 million).
READ MORE: Ronaldo tops Forbes list as world's highest-paid athlete
Ronaldo was slightly bitter after the contest, with a few choice words to say about the Icelandic team.
"Iceland only tried to defend... they had two chances and then did not try to score," the Portugal star complained.
"They celebrated like they had won the Euro cup or something. That's a small mentality. That's why they'll do nothing."
Clearly some sour grapes from the Real Madrid star, who had an incredibly poor evening in Saint Etienne.
Portugal had 27 shots, 10 on target and a lion's share of 66 percent possession, but Ronaldo didn't score and Iceland managed to frustrate Portugal all game long.
READ MORE: 'I'll crush your head': GoT giant threatens Cristiano Ronaldo ahead of Iceland match (VIDEO)
To make matters worse, Ronaldo did not shake hands with any of the Icelandic players at full-time. Iceland's captain Aron Gunnarsson went to shake Ronaldo's hand and try to swap jerseys, but the Portugal number seven ignored him and looked straight ahead before only slapping Gunnarsson's hand disrespectfully.
Iceland coach Hemir Hallgrímsson did not deny seeing the incident and best summed it up on the night: "He can choose what he does after the game, it's nothing we are bothered about. We're just happy we have a point."