'I'll crush your head': GoT giant threatens Cristiano Ronaldo ahead of Iceland match (VIDEO)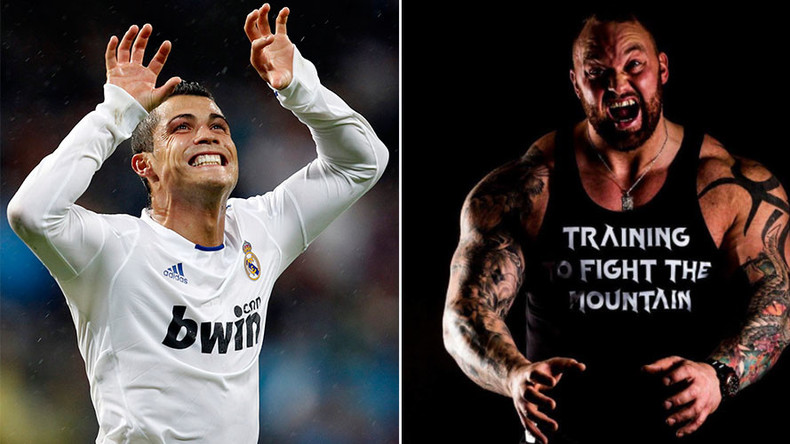 Given the opportunity to smash one past the Icelandic goalkeeper during the European Championships, soccer superstar Cristiano Ronaldo may choose to put the ball uncharacteristically wide of net - that is, if he wants to escape the wrath of 'The Mountain' from 'Game of Thrones'.
The fleet-footed Portuguese international will line-up against Iceland in the first of their three Group F fixtures next Tuesday.
And while Ronaldo will no doubt be hoping to add to his already-impressive tally of 51 goals this season, a giant, murderous knight from the popular television series has threatened to crush his skull if he does.
Icelandic strongman Hafþór Björnsson plays a terrifying 6ft 9 inch monster of a man, known as 'The Mountain', in Game of Thrones and has issued a stark, bone-chilling warning to the soccer player.
The actor is the size of a fully grown grizzly bear and is estimated to eat more than 10,000 calories a day to keep up his strength - so let's just say you don't want to annoy him.
He has become something of a cult villain in the series, with his character mostly seen bumping off people in a brutal fashion.
"I am The Mountain from Game of Thrones. I have a message for Cristiano Ronaldo. I know you are playing against Iceland in the first game. If you dare to score against my teammates, I will find you and crush your head like I did the Red Viper," he growls in a video, trying not to laugh.
Björnsson is obviously joking and doesn't really have plans to brutally tackle Portugal's best player.
But his message does raise questions as to how one of the most infamous scenes in the medieval-styled fantasy show would have gone down if it had involved Ronaldo.
Social media is guessing the outcome would be not much different to the original, when in episode eight of season four of Game of Thrones Björnsson, or 'The Mountain', smashed the head of Oberyn Martell with his bare hands.
Only time will tell if the blood curdling threat will impact on Ronaldo's thinking come the hotly anticipated Euro 2016 fixture.
The Mountain from @GameOfThrones warning Ronaldo about scoring against Iceland is class chap would rip Ronaldo in half 🗻

— James Montgomery (@JamesMonty1996) June 7, 2016