Euro 2016: Northern Ireland fan dies in Nice
Published time: 13 Jun, 2016 17:23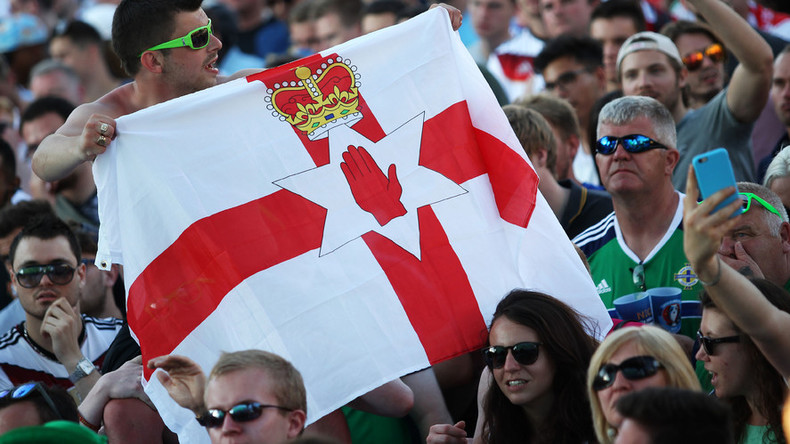 A Northern Ireland football supporter died after falling 26ft (7.9 meters) off a beachside promenade to become the first fatality of the UEFA European Championships.
Darren Rodgers, from Ballymena, died in hospital in the French city of Nice after plunging on to a hard pebble beach, police said.
It is understood the 25-year-old was by himself at the time.
"There was very little space at the top, and the man lost his balance - he fell on his head, and suffered severe injuries," a Nice policeman spokesman said.
"Many fans were out on the promenade, and were drinking heavily when the man fell from the promenade.
"The victim was taken to Nice hospital, but has since died," the spokesman added.
Mr Rodgers was in France for the opening fixture of Northern Ireland's Euro 2016 campaign against Poland.
Northern Ireland manager Michael O'Neill passed on condolences from both himself and his team.
"To find out that someone so young had lost their life affects everyone really.
"Devastating news when we got up this morning, having travelled back last night after the game to find out the news about young Darren Rodgers and the tragedy of him losing his life in Nice after the game.
"It puts into perspective everything for the players, but I know they were devastated to hear the news as well, as we can only pass on our condolences and our sympathies to his family, friends, and everyone connected to the boy," said O'Neill.
Michael O'Neill gives his reaction to the tragic death of NI fan Darren Rodgers, who passed away in Nice last night.https://t.co/NUqTkYEfyE

— Northern Ireland (@NorthernIreland) June 13, 2016
Around seven Northern Ireland fans were injured after fighting broke out around the same time, as European Championship violence spread to Nice.
French riot police were deployed after local youths hurled bottles at Irish fans in bars and restaurants around Place Massena.
A British police officer traveling with the supporters said: "About twenty to thirty Nice youths started throwing bottles at the Northern Ireland fans.
"Some bottles were thrown back - some punches were thrown. French police arrived to contain the situation."
The start of Euro 2016 has been marred by violence, with Russian and French hooligans attacking England fans in Marseille, while Germany and Ukraine's supporters have also clashed in Lille.
French Interior Minister Bernard Cazeneuve has ordered host cities to introduce an alcohol ban in the 48 hours before each game.
Mr Cazeneuve said: "It is absolutely necessary that the national federations whose supporters create incidents of this nature be punished for what happened inside the stadium, and also outside."
England and Russia may face disqualification by UEFA if the violence continues, and the ruling body has urged both the Football Association and the Russian Football Union to appeal to their supporters to behave in a responsible manner.
England boss Hodgson admitted he is concerned at being ejected from the tournament over incidents out of the team's control.
"As England manager I'm obviously very concerned about the threat which is now hanging over us and the sanctions that could possibly be imposed on the England team," said Hodgson.
"We worked very hard to get here and we really desperately want to stay in the competition. I'm appealing therefore to all of our fans - and we appreciate your support at the matches of course - but I'm appealing to you to stay out of trouble and to try to make certain that these threats that are being issued are never carried out, and we will be able to attempt to do the best we can to stay in this competition by football means."
READ MORE: UEFA to sanction Russia over stadium violence, threatens disqualification for English, Russian teams
Russia's Sports Minister Vitaly Mutko criticized the behavior of his country's fans following the violence, but also blamed match organizers for failing to segregate supporters adequately.