Finland beats Canada, Russia to face Germany in Hockey World Championships QF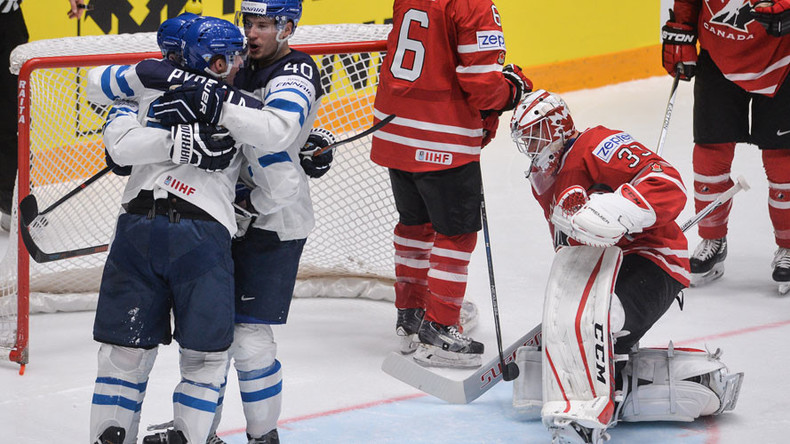 The final round of fixtures in the group stage of the Hockey World Championships enthralled spectators on Tuesday, with Russia defeating Sweden 4-1 and Finland making a statement by beating Canada 4-0.
The final six games on Day 11 means that the quarterfinal match-ups are confirmed, with the competition hosts set to face Germany.
Oleg Znarok's men have been on a roll ever since losing their opening game to the Czech Republic, with their win over Sweden at the Moscow's Ice Palace making it six consecutive victories.
Russia started quickly, with first period goals from Evgeny Dadonov and Artemi Panarin putting them into a position of power.
Pavel Datsyuk struck 90 seconds into the second period, with Roman Lyubimov putting the icing on the cake with his side's fourth soon after.
The result means that Russia finish second in their pool, behind top dogs the Czech Republic.
The Czechs confirmed their first-place finish by beating Switzerland 5-4 in a nine-goal thriller.
Despite the Swiss taking the lead, Vladimir Vujtek's men fought back and found themselves 5-2 up with less than six minutes remaining.
Although Switzerland scored two consolation goals, it was too little too late.
Elsewhere in Group A, Norway won Latvia 3-1, with two goals in the first minute of the second period proving decisive.
The competition's two remaining unbeaten sides met at St. Petersburg's Yubileiny, with Finland showing their potential to go all the way this year by beating last year's champs Canada 4-0.
Despite Canada having more shots than their opponents, the Finns were clinical and second period goals from Tommi Kivisto, Leo Komarov and Mika Pyorala turned the tide in their favor.
Canada was shutout in a world championship game for the first time in 10 years, but coach Bill Peters remained optimistic.
"We're in a good spot," he said.
"Now is the time to go on a winning streak. The winning streak has to be three games."
United States sneaked into a quarterfinals berth despite being beaten 3-2 by Slovakia, with Marko Dano scoring the winner in overtime.
Team US have not been at their best, but goals from Brock Nelson and Nick Foligno were enough to book their place in the knockout rounds.Belarus also ended its tournament with a plucky win, beating France 3-1.
All four quarter-finals take place on Thursday, with Russia facing a Germany side that was third in Group B.
The Czech Republic take on a misfiring United States, while Canada have Sweden to negotiate.
Finland is rewarded for topping Group B by facing Scandinavian rivals Denmark and will encounter Russia in the semifinals if both teams progress.