Ex-WADA chief: Russian athletics' reputation tarnished in doping scandal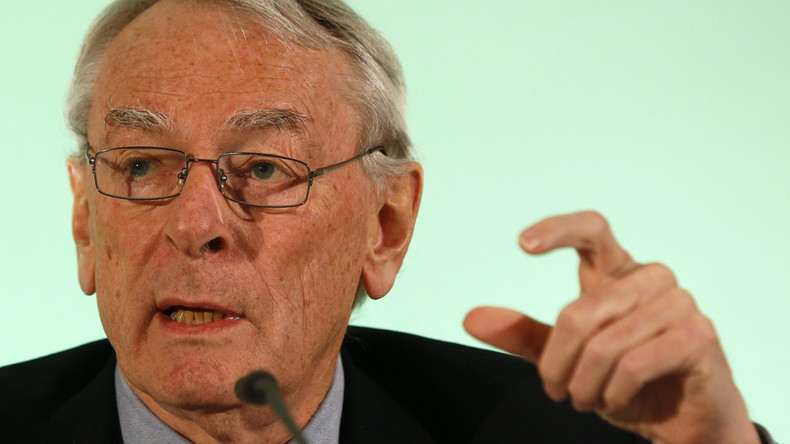 Former World Anti-Doping Agency president Dick Pound has stated that even if Russia's athletes are allowed to compete at the Olympic Games, they will be treated with suspicion.
Pound spearheaded an investigation that led to Russia's athletes being banished from international competition in November 2015, with an indefinite ban handed out and currently being served.
READ MORE: IAAF suspends Russian Athletics Federation over doping scandal
Widespread doping in Russian athletics was uncovered and the country is now working with a WADA task force to stamp out cheating in the sport and restore its damaged reputation.
Russia faces a race against time, with the Olympic Games in Rio De Janeiro to take place this summer.
The International Association of Athletics Federations will meet ahead of the global showcase in Brazil in Vienna on June 17 to determine whether Russia has made sufficient progress for the ban to be lifted.
Regardless of this outcome, Pound has stated that Russian athletes will be treated with suspicion in the future.
READ MORE: Russia may be banned from sending track & field athletes to Rio Games – WADA commission chief
"I think there's some elements of denial but at least the president of the federation has made it clear to all of the people in the sports structure that there is a problem that has to be addressed," he said.
"If we let the Russians back in, are we absolutely certain that every Russian athlete isn't doping and everything has changed?
"I think it's very hard to say that."
Coe under pressure to get Russia to Rio: former WADA chief | Reuters

Which emphasises all that ails anti doping. https://t.co/kvxwX3MVyI

— Richard Ings (@ringsau) May 6, 2016
Retired British long-distance runner Paula Radcliffe added to the condemnation of Russian athletes, claiming that whatever outcome occurred, innocent competitors would be punished.
"Somewhere in all of this innocent athletes are going to lose out somehow, whether it's the innocent athletes who compete against the cheats who are allowed back in, or whether it's the ones who are banned because some of their countrymen, or a lot of their countrymen, were cheating," she said.
READ MORE: IAAF to decide in June on Russian athletes' Olympics participation
"We're all suspicious that they can do what they need to do to assure us the entire team is clean to compete fairly in Rio."
The Russian sporting community has been rocked by a doping scandal in recent times, with competitors banned in a wealth of different disciplines including athletics, tennis, swimming and ice skating.
Russian sports stars have been specifically guilty of the use of newly banned substance meldonium, with Maria Sharapova the highest-profile case of a failed drugs test.