'I'm back!' Conor McGregor insists he will fight at UFC 200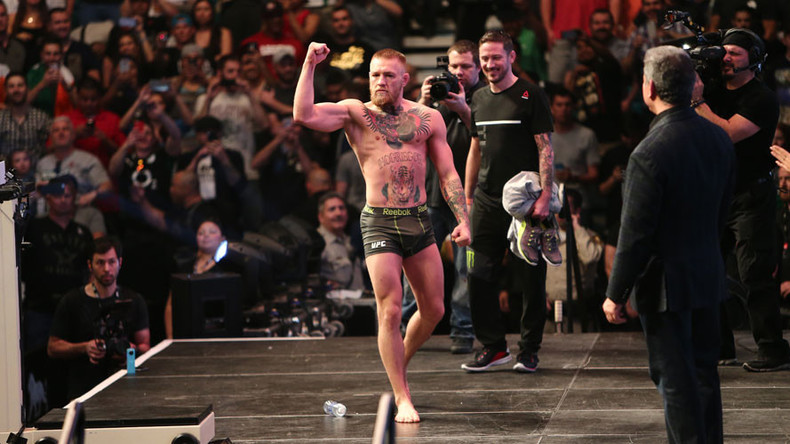 Conor McGregor has announced that he will compete at UFC 200 via Twitter, despite the fact UFC president Dana White officially said that the Irishman is not going to be a part of the event last Saturday.
In a tweet sent early Monday morning, the fighter thanked UFC President Dana White for arranging his return to the July 7 fight bill that he had previously been dropped from.
McGregor did not give any details on the conditions around his return to the bill. He previously blamed a grueling promotional schedule for his fallout with the UFC, who have not commented on or confirmed his announcement.
READ MORE: No McGregor at UFC 200 – Dana White
The tweet is another twist in a tumultuous week for the Irish fighter after an April 19 tweet announced he was retiring. He was subsequently removed from the UFC 200 bill, where he was scheduled to fight Nate Diaz in Las Vegas, after details emerged of his refusal to participate in a media tour to promote the fight.
On April 22, he seemingly mocked UFC President Dana White on Twitter after White held a press conference praising all the other fighters' willingness to promote the event. In typical McGregor fashion, he reminded everyone of his monetary value to the sport.
McGregor has seen a rapid rise to fame in the UFC where he won the featherweight belt after knocking out longtime champion Jose Aldo in 13 seconds. In March, he suffered his first UFC defeat when Nate Diaz forced him into a submission in the second round.
He is currently in Iceland training for the rematch against Diaz and has offered the UFC a reduced promotional tour in order to concentrate on the fight.
White announced on Saturday that McGregor was definitely not going to fight at UFC 200. At the same press conference Nate Diaz said: "I came here to fight Conor. I'm not real interested in anyone else."
Time will tell whether White has given in to the Dubliner's demand or if McGregor's tweet is another play in a power game.