NBA: Warriors continue charge on Bulls' record
Published time: 30 Mar, 2016 14:44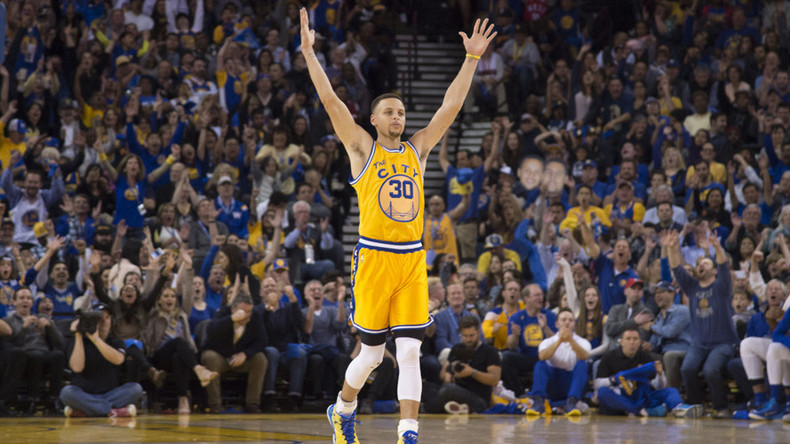 The Golden State Warriors moved a step closer to NBA history on Tuesday after grinding out a 102-94 victory against the Washington Wizards.
The win moved the Warriors to 67-7 for the NBA season as they continued their relentless pursuit of the Chicago Bulls' record of 72-10 set in 1995/96.
They remain one game ahead of the schedule set by the Bulls during their record-breaking season.
The Warriors also joined the 1995/96 and 1996/97 Bulls as the only teams to have won at least 67 games in consecutive seasons. Only 10 teams have previously won 67 games in a season.
Five of the Warriors' final eight fixtures are at home, where they have now won a record 54 straight regular-season games over the past two seasons.
If they can win their remaining eight games, Steph Curry's team will become the first in history to go 41-0 at home during a regular season and would beat the 1995/96 Bulls' record of 33 road victories.
An unbeaten end to the campaign would also see the Warriors edge past the 1995/96 and 1996/997 Bulls' record of 141 wins over consecutive seasons.
After the game, head coach Steve Kerr praised his players for their performances.
"A lot of things have gone our way this year and the guys have done an amazing job, coming off of last year, focusing on getting better and trying to continue the rise," he said.
"It's not easy to do in this league, takes a lot of energy, so I'm really proud of them for how they've competed."
Curry led the way with 26 points, while Klay Thompson and Draymond Green weighed in with 16 and 15 points respectively.
The Warriors' next game is at Utah Jazz on Wednesday. The two teams met earlier this month, with the Warriors recording a 115-94 victory to claim their 10th win from their last 11 meetings against the Jazz.
READ MORE: Endorsements put Stephen Curry on fast track to top of NBA pile

Elsewhere, Dallas Mavericks' forward Dirk Nowitzki says he has thought about playing beyond the final remaining season on his contract.
Now in his 18th season, Nowitzki told ESPN Radio's 'NBA Insiders' show that playing an even 20 years "would sound really, really great."
"My goal was when I signed this three-year deal to fulfil that contract," said Nowitzki.
"And so if I play next year through, by that point I'll be 39. To be honest, 20 years [in the NBA] would sound really, really great.
"Next year would obviously be my 19th year, so maybe after this next year I could sign on one more. But I'll just have to wait and see, I think, at this point."
Nowitzki is currently the NBA's sixth-leading all-time scorer and would need about 2,000 points to pass Wilt Chamberlain in fifth.
"Stats is never really something I played for," he added. "I think if it's no fun anymore to get up in the morning and go to practice, then I better call it a day.
"I started playing because it's a fun sport to me and I'm gonna quit while it's fun. I'm not going to play another year saying I have to get into the top five [in scoring]. That's never how my mind worked.
"But like I said, as long as I get up in the morning, it's still fun and I don't have to take a bunch of meds to play, I'll probably play one more."