Turkish (Un)Delight: Istanbul V-ball fans spray Russian team with garbage & insults (VIDEO)
Published time: 30 Mar, 2016 10:47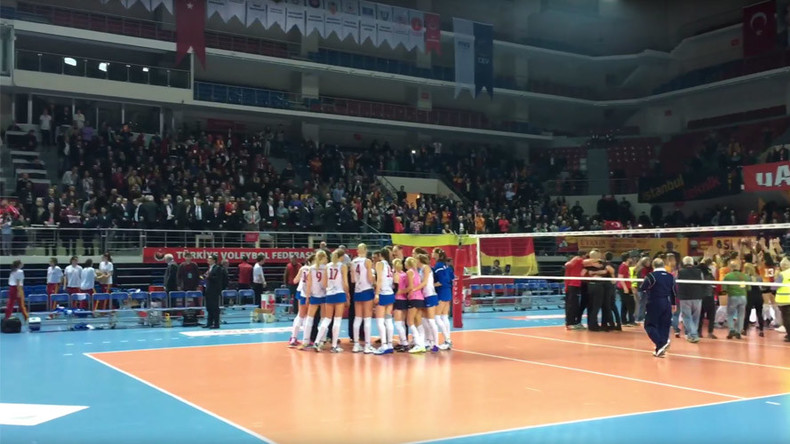 A Russia-Turkey women's volleyball match in Istanbul turned into a display of hatred from a Turkish barmy army, who showered the guest team with rubbish. The host team coach went as far as flipping the bird to the Russian girls and staff.
The first leg of the final women's game of the European Volleyball Confederation (CEV) between Russia's Dynamo (Krasnodar) and Turkey's Galatasaray (Istanbul) played in the Turkish capital of Tuesday went far beyond the ideal of fair play.
Russian player Tatyana Kosheleva published a post on Instagram, describing the atmosphere at the match as unprecedented for professional volleyball.
"The fans of the Turkish team behaved very badly, their words and gestures exposed their utter hatred of us. They were throwing rubbish on our heads!" Kosheleva wrote, adding that the "ultimate shock" of the game was the Turkish team coach "giving the finger to me and out team's staff."
"I would like to remind people that this is sport that is supposed to bring happiness, passion and support, which was not what I saw [in Turkey]," Kosheleva wrote.
The Russian team lost the game 3:2 and will be trying to recoup during a return match in Russia's Krasnodar on April 2, where hopefully the local fans will be more gracious.
Managing Director of Russia's national team, Vladislav Fadeev said the Russian Volleyball Federation is not going to make an official complaint about the antics of the Turkish side.
"Our principal act is going to be a victory of Dynamo Krasnodar in the CEV Cup. That will prove it all," Fadeev said, noting that fans are free to act as they want, while the Turkish coach's gesticulation could be explained by poor parenting.
However, Kremlin spokesman Dmitry Peskov told TASS there could be an official reaction from the Russian authorities.
Security measures will be tight during the return match in Krasnodar and it is highly unlikely that the Turkish team will suffer a deluge of litter on their heads.