Russian volleyball success: Rio Olympics qualification secured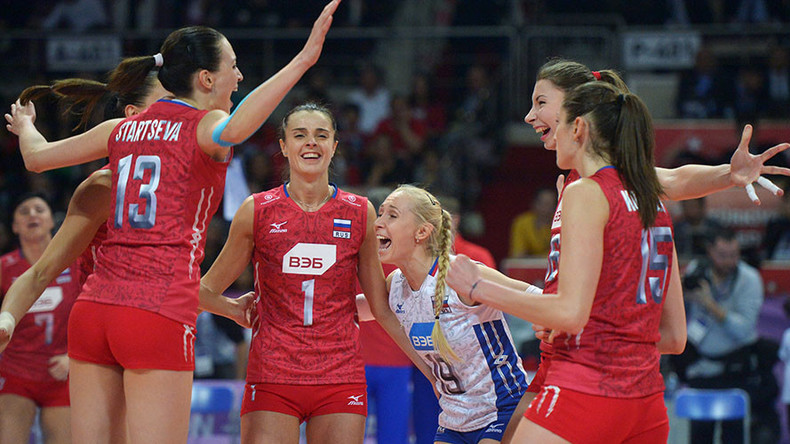 Russia will compete in volleyball at the Olympic Games in Rio de Janeiro this summer, with both the men's and women's teams ensuring qualification over the weekend.
The men's side are the reigning Olympic champions after beating Brazil in the final of the 2012 London Games and will now get the chance to retain their crown.
They competed in the qualifying rounds in Berlin, Germany, where they beat France 3-1 to book a place at this summer's tournament.
Stanislav Shevchenko, the president of the Russian Volleyball Federation, said the men's team pulled together to book a place in the upcoming competition.
"I would not dare to say that the ticket to the Olympics was won due to extraordinary efforts implied by a certain player," he told Russian media.
"No, it was namely the team in general winning the match. However, I would point out Sergey Tetyukhin, who proved to be a great player throughout the tournament and deserved the right to play in Rio de Janeiro."
As well as claiming glory four years ago, the Russian men's team also claimed Olympic gold as part of the Soviet Union back in 1964, 1968 and 1980.
The Russian women's team have also booked their place in Rio, beating the Netherlands 3-1 in the final qualification clash at the weekend.
The games took place in Ankara, Turkey, where the Russian women will not have been warmly received given the recent political tensions between the two nations.
Russia has a proud record in women's volleyball, claiming gold in 2000 in Sydney, Australia, and 2004 in Athens, Greece.
However, the women's team missed a place on the podium in the last two Olympics, bowing out at the quarter-final stage in both the 2008 and 2012 games in Beijing and London respectively.
Both the men and women's teams will look to do their country proud in Brazil, especially given that Russian participation in an array of sports may well be restricted.
An indefinite ban from the International Association of Athletics Federations (IAAF) due to a doping scandal has left Russia crossing its fingers that the disciplinary measure will be lifted in time for the nation to compete in all sports this summer.
Investigators from the IAAF are due to visit Russia this week to evaluate reforms in the nation's athletics hierarchy.
You can share this story on social media: