Unlikely NHL hero set for Hollywood
Published time: 26 Feb, 2016 21:29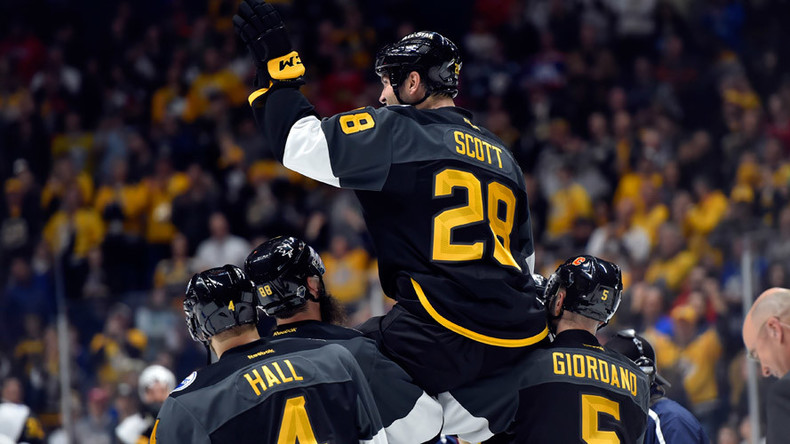 John Scott captured the hearts of hockey fans across the world – now he's set to be introduced to a whole new audience.
Mandalay Sports Media has acquired the feature rights to Scott's story, and top American writer Mitch Albom will write the movie script of the Canadian's life and hockey career, which exploded in dramatic fashion at the 2016 NHL All-Star Game in Nashville.
After a fan-led social media campaign catapulted Scott into the public consciousness, the NHL did their best to prevent him from taking part in the game.
The Arizona Coyotes traded Scott to Montreal after he was voted into the All-Star line-up, with the Canadiens quickly sending him to St John's of the AHL, as the league looked to exclude the enforcer from the event.
Backed by the fans, Scott refused to withdraw and was subsequently allowed to take part.
He went on to captain the Pacific Division to victory during the 3-on-3 tournament and won a share of the $1 million prize.
Scott also claimed the game's MVP award and was hoisted onto his teammates' shoulders in celebration.
READ MORE: Chewbacca, mullets & John Scott - NHL All-Star game highlights

His wife, Danielle, who was pregnant with twins at the time of the game, was on hand to witness her husband become a hockey legend. She gave birth to twin girls on February 5.
Albom, who has compared Scott's story to that of fictional character Rocky Balboa from the 'Rocky' franchise, says it's a dream project for a screenwriter because he doesn't have to fabricate anything.
"This just seemed to be a story that'll hold up," he said. "And for people that don't know that it's a true story, and they watch it if it becomes a movie, they're going to be pinching themselves, going, 'Oh, c'mon. They had to make that up.' We don't have to make anything up."
The 57-year-old has written three movies and sold over 35 million books worldwide, in addition to working for the Detroit Free Press and ESPN, and says he's looking forward to finding out more about Scott and his family.
"I'm interested in telling this incident as a story, but also just the whole life of a guy on the fringes of hockey," said Albom.
"He only once in his life had a two-year contract, and I think people can relate to that, and that's the kind of film I would like to see. You don't have to be a hockey fan to understand it."
Albom had previously turned down opportunities to write sports movies, but says this one feels like a film that will appeal to everyone.
"To me, this is really not a sports movie," he said. "This is really a story for our time, because the internet and what the internet does to people is very current.
"John's a stand-up guy, and he's very intelligent. He has this all in perspective, and while he makes his living with his fists, it's clear that he has a mind and he's got a love for his family and he's watching out for his family."