Moscow's 2018 World Cup final venue to be ready by December 2016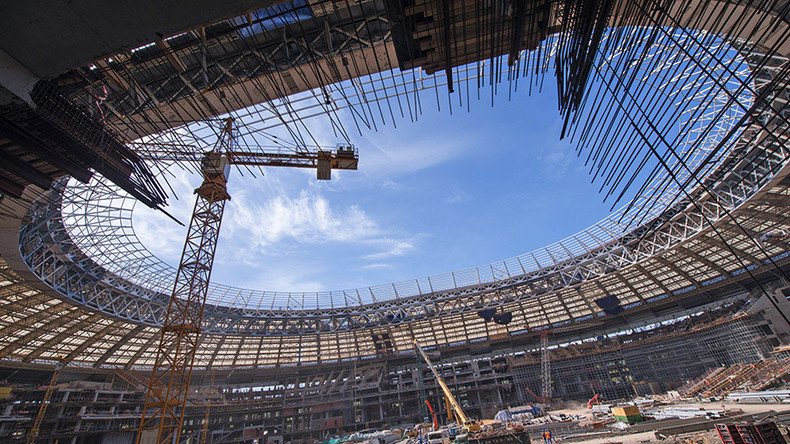 Moscow's Luzhniki Stadium, currently under reconstruction, is expected to be ready six months ahead of schedule. The Luzhniki stadium will host both the opening and final matches of the 2018 World Cup.
Moscow has two stadiums as venues for Russia 2018, with the recently-built Otkrite-Arena the second one. Built in 2014, the Otkrite-Arena will serve as one of the venues for the 2017 Confederations Cup along with St Petersburg's Piter Arena, Sochi's Fisht Olympic Stadium and Kazan's Kazan Arena. All four venues will be among the 12 stadiums used for the 2018 World Cup.
READ MORE: FIFA: Russia ahead of schedule in 2018 World Cup preparations
Reconstruction at Luzhniki Stadium was started in 2013 and was initially expected to be ready by June 2017. The revamped stadium will host over 81,000 spectators.
Andrei Bochkarev, the head of the construction department with Moscow's authorities, said: "Reconstruction works of the country's main stadium Luzhniki Arena this year were ahead of schedule. Therefore, the stadium's reconstruction is now planned to be completed half a year of the previously scheduled date, i.e. in December 2016."
This is the second reconstruction of the Luzhniki stadium - it was previously rebuilt in the preparations for the 1980 Summer Olympics held in Moscow. The stadium, originally built in 1956, will have its athletics track removed in the latest rebuilding with seating brought closer to the pitch and the number of tiers in stands increased from 13 to 16.
One of the main goals of the reconstruction project is to preserve the historical exterior of the stadium, which has hosted a multitude of sporting and cultural events including the 1957 Ice Hockey World Championship Final, the 1980 Summer Olympics, 1988 World Youth Games and the 2013 World Athletics Championships. It also serves as the home ground for Russian clubs playing in European competitions (such as Rubin Kazan) whose own grounds do not meet UEFA requirements.
In the past, the stadium has been mainly used for football matches played by CSKA Moscow, Torpedo Moscow and Spartak Moscow, although none of these teams are based there anymore. Currently it's mainly used as one of the home grounds for the Russian national football team, and as such is similar to Wembley Stadium in London as a national venue.
The stadium hosted the 1999 UEFA Cup Final, as well as the 2008 UEFA Champions League Final. After hosting the 2018 World Cup Final on July 15, Luzhniki Stadium will be one of five stadia to have hosted the finals of the FIFA World Cup, UEFA's European Cup / Champions League and used as an Olympic Games venue. The other four on this list are Rome's Stadio Olimpico, Berlin's Olympiastadion, Munich's Olympiastadion and London's Wembley.
You can share this story on social media: