Shannon Szabados becomes 1st woman to post shutout in men's pro hockey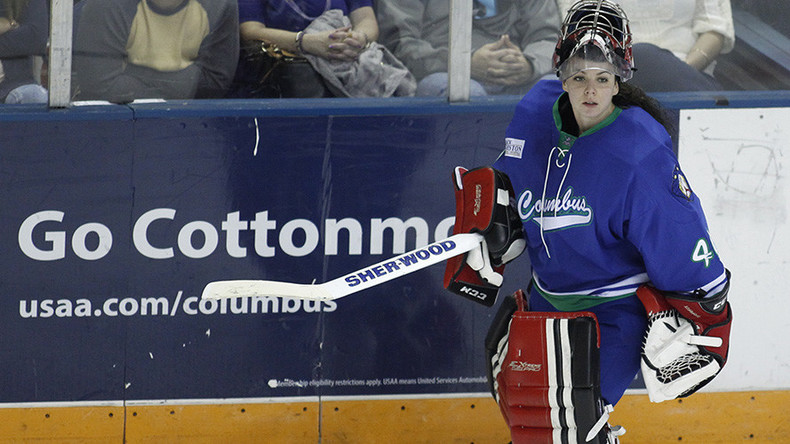 On Saturday night, Canadian goaltender Shannon Szabados became the first woman to record a shutout in a men's professional hockey league. The 29-year-old is playing her second full season with the Columbus Cottonmouths of the SPHL.
Szabados made 33 saves for the Cottonmouths during a 3-0 win against Huntsville Havoc in the Southern Professional Hockey League.
The SPHL is one of America's minor-pro leagues that includes nine teams located in the southeast of the United States and Illinois in the Midwestern US.
A two-time Olympian, Szabados currently holds an 18-16-4 record, with a 3.29 goals-against average and a .907 save percentage.
Of Hungarian heritage, Szabados played for the Canadian Women's Olympic ice hockey team in 2010 and 2014, when she won gold in Vancouver and Sochi respectively. She was named Top Goaltender and selected to the Tournament All-Star Team in the 2010 Winter Olympics.
Szabados has set several 'firsts' of being the first female to play in men's hockey leagues. Starting from age nine, she was the first girl to play in several amateur ice hockey tournaments in Canada. Her initial successes culminated in a berth in the Western Hockey League (WHL) at the age of 16, where she played four exhibition games for the Tri-City Americans.
After playing in the Alberta Colleges Athletics Conference from 2007 to 2013, Szabados signed on to play for the Cottonmouths in March 2014, getting her first game on March 15, stopping 27 of 31 shots in a 4-3 loss to the Knoxville Ice Bears. She became the first female goaltender to win an SPHL game in November 2014 as the Cottonmouths defeated the Fayetteville FireAntz 5-4 in overtime.
After her record achievement on Saturday, Szabados received congratulatory tweets from Florida Panthers' goalie Mike McKenna and Hall of Fame goaltender Grant Fuhr.
Congrats @ShannonSzabados, 1st shutout by female in men's pro. My late friend Amy Oberreither had same dream when we were young. Great job!

— Mike McKenna (@MikeMcKenna56) December 28, 2015
Other women to make their mark on the men's hockey game include Hayley Wickenheiser, who was the first woman to score a goal playing for a professional hockey team in Finland in 2003, and netminder Manon Rheaume, who joined the NHL's Tampa Bay Lightning in the early '90s and played in exhibition games with the team.