Wenger urges Manchester Utd to back Van Gaal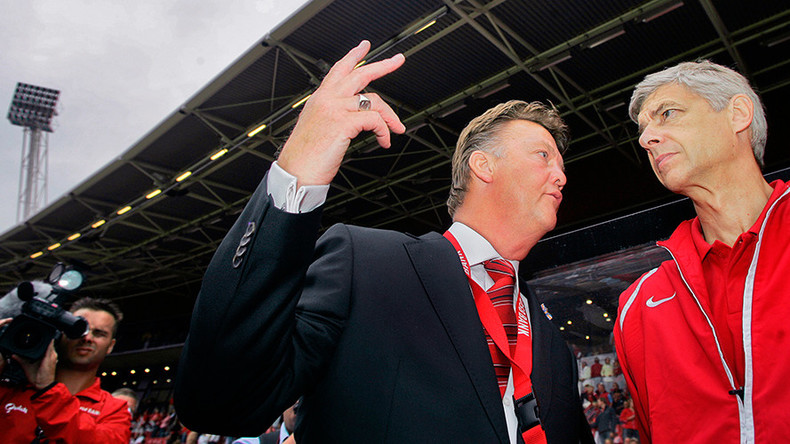 Arsenal manager Arsene Wenger has called media speculation around Manchester United boss Louis van Gaal 'disrespectful' and has asked the press to take more note of the Dutchman's football experience.
United have not won any of their last six games in all competitions, resulting in them being eliminated from the Champions League and dropping out of the Premier League top four.
Defeats against newly-promoted sides Bournemouth and Norwich City in recent weeks have added to the pressure on Van Gaal, leading to speculation that the former Barcelona and Bayern Munich boss will be shown the door before his current contract expires in 2017.
READ MORE: Manchester United in crisis: Is the club right to back Louis van Gaal?
With Chelsea dismissing Jose Mourinho last Thursday, British media are now suggesting that the Portuguese could replace Van Gaal at Old Trafford as early as the start of 2016.
Given the time that the current United boss has been in the game, Arsenal manager Wenger has stated that Van Gaal deserves a lot more respect than he is currently getting.
"I do not want to go in a world of speculation, I personally have a huge respect for Louis van Gaal and I think what is going on there is disrespectful," the Frenchman said.
"This guy has worked for 30 years in football and has delivered [an] unbelievable quality of work."
Wenger, who has managed Arsenal since 1996, believes every manager deserves time to implement their playing philosophy at a club.
"Of course he deserves more time," said Wenger.
"Every manager has his own way to work, with his own personality and you can only be successful if you work with your own personality."
United's defeat to Norwich at Old Trafford on Saturday means that the club are now nine points behind surprise league leaders Leicester City, and adds importance to their Boxing Day clash with Stoke at the Britannia Stadium.
Wenger also commented on Chelsea's axing of Mourinho, putting his much-publicized and longstanding feud with the Portuguese manager to one side to express sympathy with the dismissed coach.
"I do not want anyone to lose their job, my personal feelings on that front is that it is always sad when someone loses their job," the Gunners boss said.
Mourinho's agent Jorge Mendes said today there is no agreement or "official proposal" for his client to replace Van Gaal at United.
READ MORE: Abramovich counts cost of Chelsea reboot amid rumors of Mourinho moving to Man U
With Pep Guardiola announcing his summer departure from Bayern Munich, the Catalan coach is also being suggested as a possible replacement for the Dutchman ahead of next season.
READ MORE: Guardiola confirmed to leave Bayern as Manchester clubs lie in wait
The problems at Old Trafford and Stamford Bridge have allowed Arsenal to progress to second place in the league, with a 2-1 win over title rivals Manchester City on Monday night bolstering their title hopes.