Blackhawks' Kane sizzles on ice to keep record point streak alive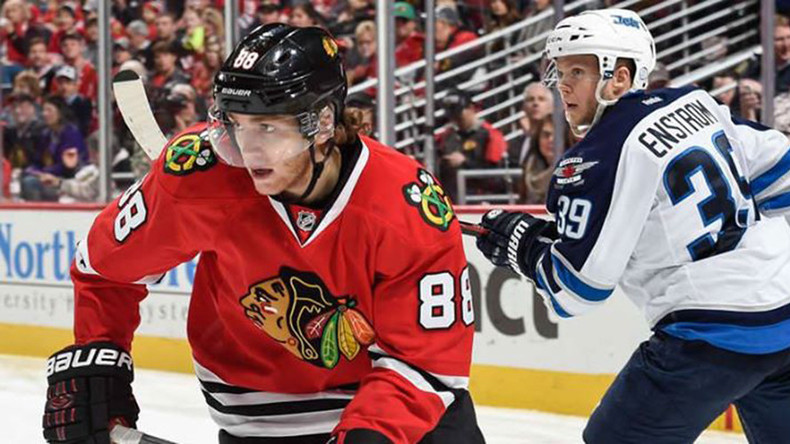 Chicago Blackhawks' forward, Patrick Kane, extended his franchise-record point streak to 25 with a powerplay goal in a 2-0 victory over Winnipeg Jets on Friday.
Kane is now tied with Pittsburgh Penguins' center Sidney Crosby's streak in 2010-11 as the longest since the 1992-93 season.
He has broken records held by Bobby Hull, Eddie Olczyk and Phil Kessel for the longest point streak in Chicago's history (Hull – 21) and the longest by an American-born player (Olczyk and Kessel – 18).
With 19 goals and 26 assists putting him top of the NHL points scoring charts, these are heady times for the man whose season started under a big cloud.
An accusation of sexual assault followed by a three-month investigation which brought no charges, and his removal from the front cover of EA Games NHL 2016, have sparked a run which may yet lead to the all-time League record set by Wayne Gretzky in 1983-84 at 51 games with Edmonton Oilers.
The case was closed in early November when Erie County (NY) District Attorney Frank Sedita III described a 21-year-old college student's claim against Kane as "rife with reasonable doubt" and said Kane never behaved as if he were guilty.
"I have repeatedly said that I did nothing wrong," Kane said at the time in a statement issued by the team. "I have respected the legal process and I am glad that this matter has now been closed and I will have nothing further to say going forward."
His current form means he's the leading contender for the Hart Trophy, but the stigma attached to the case remains.
Craig Custance, hockey writer for ESPN The Magazine, recently wrote: "If Kane continues to play this well all season long, the interesting debate happens after the season.
"If he hadn't gotten hurt last season, Kane certainly would have been in the Hart conversation, although it would have been hard to imagine anyone prying it away from Canadiens goalie Carey Price.
"Now, Kane's arguably in the Hart Trophy driver's seat, but will voters be comfortable voting for a player who was the center of a rape investigation all summer long? Kane maintained his innocence, and charges were dropped because of a lack of credible evidence.
"So, is that it? Does any of that factor in when it comes time to vote? It's still a long ways away, but at some point that may become a question voters have to consider."
While questions are still being asked off the ice, it has not been affecting Kane's teammates.
Kane's new linemate, Russian Artemi Panarin, is already being touted as a potential Calder Trophy winner having scored nine goals with 19 assists so far in his rookie NHL year, while the Blackhawks look set for another run at the Stanley Cup.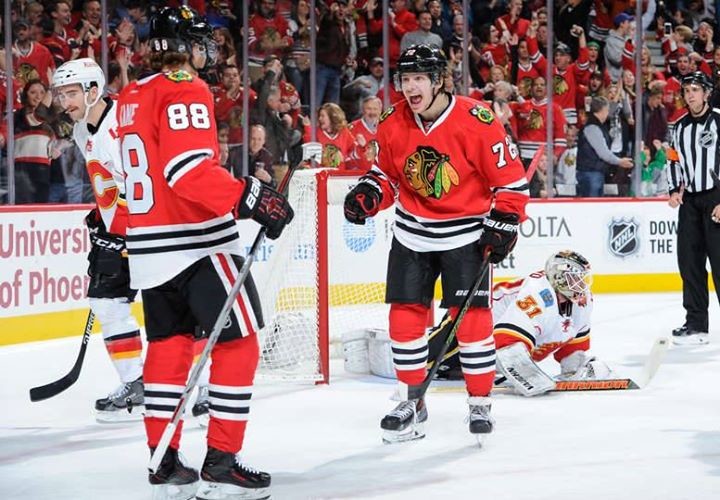 Patrick Kane has some way to go before reaching Gretzky's record, but the legendary Canadian would have no issue if he did.
"He can get there, absolutely," he said. "What does it take to get there? It's a combination of things. First of all, you have to be good and you have to get a little bit lucky.
"I was a little bit lucky during the streak, whether it was a (secondary) assist late in the game or an empty-net point. You have to stay healthy and you have to be surrounded by really good teammates. He has all the intangibles he needs."
"Records are made to be broken. I'm going to watch him and if he breaks the record I'll be the first guy to shake his hand."