NHL's Top 10 Highest Paid Stars in 2015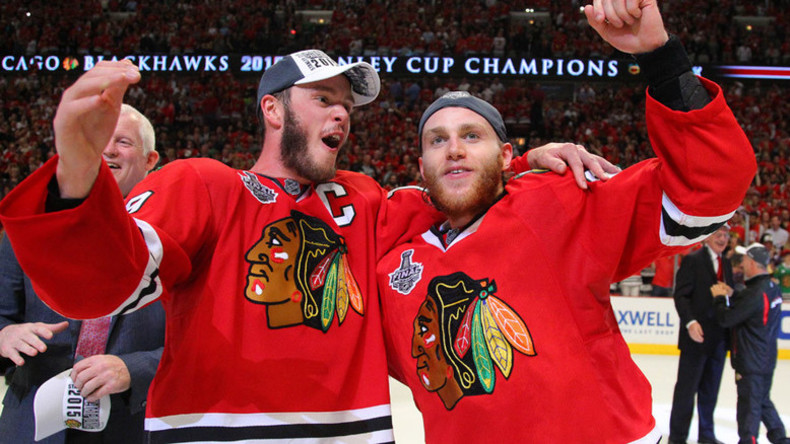 Getting value for money from player contracts is a difficult art in any sport, but it appears NHL general managers are on an upward curve when deciding which elite players should be paid the most.
Multi-million dollar, multi-year deals for the likes of Ilya Kovalchuk and Rick DiPietro may have been famous errors of judgement in the past, but the six NHL stars earning eight-figure salaries during the 2015/2016 season each rank amongst the top players in their position.
Forbes reports that Sidney Crosby leads the way at $16.5 million, including $4.5 million off the ice. The Pittsburgh Penguins' center is the NHL's most marketable player with endorsement deals from a range of companies including Gatorade, CCM and Rogers Communications.
Crosby also signed a deal in October with Adidas worth more than $1 million annually. He had previously been associated with Reebok.
The 28-year-old is under contract with Pittsburgh for nine more years after this season, for a further $68.4 million. His salary falls from $12 million to $10.9 million in 2016.
Three-time Stanley Cup winner Jonathan Toews is second on the list at $16 million. The Chicago Blackhawks' captain started a new eight-year, $84 million contract this season worth $13.8 million in its first year.
His endorsements include Electronics Arts – he's the cover star of EA Sports NHL 16 – Chevrolet, Hallmark and Upper Deck.
Toews' teammate Patrick Kane completes the top three with earnings of $14.7 million, including $900,000 off the ice. He signed an eight-year deal with the Blackhawks in July 2014 and had the NHL's top-selling jersey last year.
Kane was removed from the cover of NHL 16 before the game's release after a sexual assault investigation, but he has not been charged with any crime. He still has deals with Gatorade, Chevrolet, Bauer, Upper Deck and Frameworth.
Shea Weber has the highest salary in the NHL this year thanks to the front-loaded $110 million contract he signed with Nashville Predators in 2012.
The defenseman receives $14 million annually for the first four seasons before it starts decreasing from 2016-17. Weber's off-ice endorsements are minimal, adding only $100,000 to his total earnings.
Washington Capitals' Alex Ovechkin rounds off the top five with $13 million. Ovi's endorsement partners include Nike, Bauer and Coca-Cola, but he lost a valuable agreement with Gillette when the deal expired at the end of 2014.
High income in the NHL appears to link well to popularity, with the six players with the best-selling jerseys last year ranking amongst the top seven salaries this season.
The NHL's top 10 earners will pocket $124 million this year, with just $13 million of the total from endorsements.
NHL players are limited to a maximum salary of 20% of the salary cap. Although the maximum has risen in recent years due to increasing revenue, a declining Canadian Dollar is impacting the cap, which rose only 3.5% this year.
While the players above already have their contracts, future NHL free agents' earnings could be restricted in a salary cap environment with limited growth.
For the fourth year in a row no NHL players qualified for Forbes' annual list of the world's 100 highest-paid athletes where the threshold was $18.8 million. Athletes from 10 other sports made the top 100.
NHL's highest paid players top 10
1. Sidney Crosby (Pittsburgh Penguins) $16.5m
2. Jonathan Toews (Chicago Blackhawks) $16m
3. Patrick Kane (Chicago Blackhawks) $14.7m
4. Shea Weber (Nashville Predators) $14.1m
5. Alex Ovechkin (Washington Capitals) $13m
6. Henrik Lundqvist (New York Rangers) $10.8m
7. Evgeni Malkin (Pittsburgh Penguins) $9.85m
8. Eric Staal (Carolina Hurricanes) $9.75m
9. Zach Parise (Minnesote Wild) $9.75m
10. Ryan Getzlaf (Anaheim Ducks) $9.4m