Real Madrid v Barcelona: A rivalry that transcends sport
Published time: 20 Nov, 2015 18:28
Edited time: 20 Nov, 2015 19:57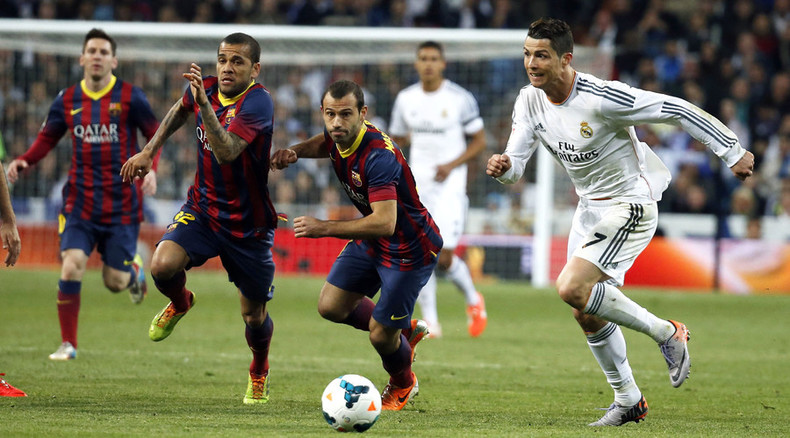 El Clásico is more than just a match. Not just the most prestigious and lucrative fixture in club football, Real Madrid v Barcelona also brings a multitude of political and cultural differences that make it the most all-encompassing rivalry in the sport.
It's a match that could easily be branded as a battle of nations: Real Madrid, Spanish royalty hailing from the capital city, versus Barcelona, the pride and joy of the autonomy-seeking community of Catalonia. The latter's ever-present push for independence has been gathering momentum recently, making the Spanish league calendar's most glittering fixture even more a clash of deep-rooted political perspectives.
For the thousands of Barcelona fans across Spain, the club has become more and more of a political mouthpiece. Pro-independence flags are often seen in the midst of the Barca faithful during games, with the club's away kit also an adaptation of the Catalan flag.
Richard Guilianotti, in his book 'Football: A Sociology of the Global Game', says that "the football dyad [rivalry between two teams] at club level… [becomes] an exterior site in which ethno-nationalist tensions are symbolized and expressed."
Barcelona, synonymous with Catalan nationalism, "displays a richer luster in confrontations with Real Madrid (the team of Castile and Franco)."
General Franco's relentless crippling of the region of Catalonia during his dictatorship from the late 1930s to the 1970s saw Barcelona and the Camp Nou become a sanctuary away from the persecution, and it has remained a symbol for the community ever since, with clashes against the footballing manifestation of Spanish nationalism, Real Madrid, hugely important.
Moving from one team to the other has always been seen as an act of treason, as Luis Figo discovered in 2000 after a pig's head was hurled onto the pitch at him during one El Clásico. The Portuguese winger had moved from Barca to Real that year.
Tax issues have exacerbated the rivalry, with Barcelona players Lionel Messi and Neymar recently coming under scrutiny from the Spanish authorities - the latter is reportedly contemplating his future at the club in light of the investigations
We shouldn't forget the importance of Saturday's match in terms of football, with Barca three points clear of Real at the top of La Liga. Adding to this age-old rivalry is the return of Barca star Lionel Messi after a lengthy layoff, and also a Real team desperately needing a win to keep pace with their bitter rivals. The Santiago Bernabéu will once again be a heaving cauldron of noise and passion come the weekend.