Ronda Rousey floored by Holm in ring; decks Sharapova on social media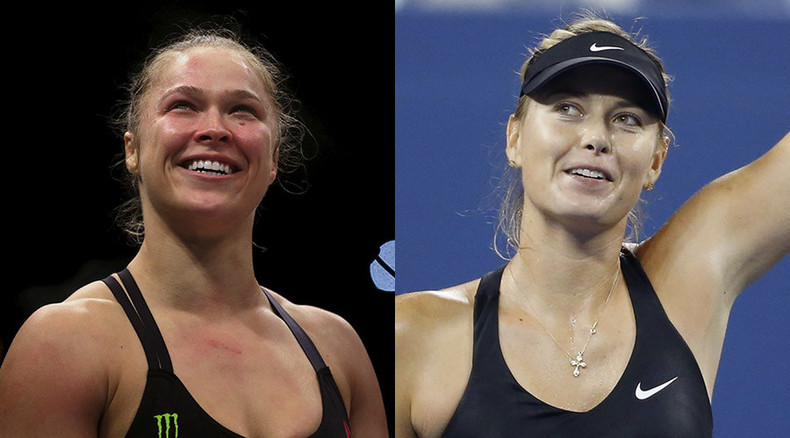 Ronda Rousey's undefeated record may have been broken after she was knocked out by Holly Holm in their UFC bantamweight title fight, but she still has reason to celebrate after becoming the most popular female athlete on social media.
The American now has a combined social media fan base of 18,158,531, taking her past tennis star Maria Sharapova, who previously held the top spot with 18,074,264. Serena Williams is in third place with just over 12 million fans.
Over half of Rousey's total comes from Facebook 'Likes,' with the rest made up of Instagram and Twitter followers. Her fan base dwarfs every NFL and NHL team – the Dallas Cowboys are the closest with 10.9 million fans – while the likes of Novak Djokovic (12.5 million), the Boston Celtics (11.1 million), and Lewis Hamilton (8.6 million) also lag well behind her.
Rousey plans to take a few months away from the sport, but has assured her fans that she will return to the Octagon after suffering her first UFC defeat due to Holm's stunning delivery of a brutal knockout kick.
She told fans on Instagram: "I just wanted to thank everyone for the love and support. I appreciate the concerns about my health, but I'm fine. As I had mentioned before, I'm going to take a little bit of time, but I'll be back."
Rousey was hospitalized after the fight due to the injuries she suffered in the ring, but after an overnight stay it was confirmed that she had not suffered a concussion or any other serious injuries, other than a nasty gash to her lip.
However, the UFC is taking no chances with Rousey having confirmed they have medically suspended her for the maximum 180 days following her knockout defeat in Melbourne, Australia.