Swiss shocker: Federer crashes to surprise defeat in Paris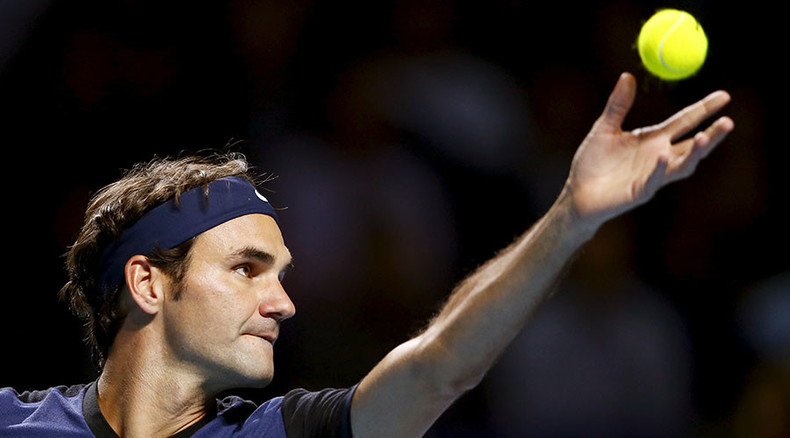 Big-serving American John Isner blasted 27 aces past Roger Federer to seal a quarterfinal place at the Paris Masters. Novak Djokovic overcame some poor serving to also progress, while Andy Murray warmed up for the Davis Cup Final with a comfortable victory.
Federer's preparations for the upcoming ATP World Finals were dealt a blow after he suffered a shock defeat to Isner in the third round of the Paris Masters.
The American bombarded Federer with a total of 27 aces during the match to secure a 7-6, 3-6, 7-6 win.
The 17-times Grand Slam champion looked like he might force a win, saving all six break points and fighting back from 6-2 down in the final set tiebreaker, but his resistance was finally broken when Isner hit a looping serve to Federer's backhand on his next match point.
"It's tough going out of a tournament without losing your serve, but that's what happened," said Federer. "I'm not sure what I could have done differently."
After winning the 88th title of his career at the Swiss Indoors last Sunday, Federer was full of confidence, especially as he held a 5-1 lead over Isner in their career meetings, beating him most recently in the US Open fourth round.
He added: "At the US Open I won my tiebreaks and here I lost them. With him it's whether he can serve big whenever he needs it most. I thought he did very well today when he needed it. I thought he served great."
Isner faces David Ferrer in the quarter-final.
Novak Djokovic extended his winning streak to 19 and advanced to a last eight meeting against Tomas Berdych after a 6-3, 7-5 victory against Gilles Simon. The Serbian dropped his serve five times during the match and admitted even the best can suffer bad days.
He said: "It happens. In sport there are days when you just lose your rhythm. You're trying a bit too much and you lose a bit of confidence It was frustrating, I can assure you, losing four service games in the second set - it hasn't happened to me for a long time."
Andy Murray eased into the next round after routing David Goffin 6-1, 6-0 in a prelude to the Davis Cup Final later this month. Murray lost only eight points on his serve and broke the Belgian five times.
"It was good for me to get the chance to play him before the Davis Cup and see his game and the speed of his shots and where he maybe makes some mistakes from and things that he likes to do," Murray said. "Obviously with the result, that's a positive. I mean, mentally for me it's a positive win."
Murray will battle Richard Gasquet for a place in the final four, while Stanislas Wawrinka against Rafael Nadal completes the quarter-final line-up.