Left Front activist arrested over plotting mass riots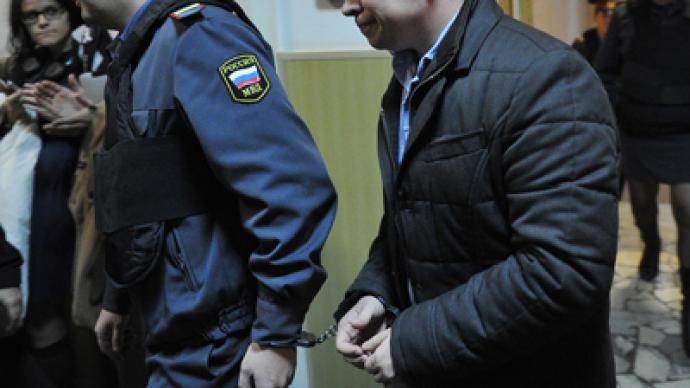 A Moscow district court has ruled to arrest Konstantin Lebedev – an aide to Left Front movement's leader, Sergey Udaltsov – who is accused of preparations for mass disorder.
Lebedev will remain in custody until December 16, the Basmanny Court decided. The judge found the charges against the suspect grounded and legal.If Lebedev was released, he could put pressure on witnesses, destroy evidence or escape. Given the gravity of the offense he is accused of, the court considered it impossible to choose less restrictive preventive measure.Lebedev's lawyers sought home arrest or a release with travel restrictions for their client. The advocates are set to appeal the decision at a higher court. Under the law, they have 10 days to do so. The opposition activist was detained on October 17. He has been officially charged with plotting to organize mass riots and may face up to 10 years behind bars. Udaltsov was released after the questioning on Wednesday under pledge not to leave Moscow. The Left Front leader also claims that he has been put under observation and "six or seven people follow him everywhere.""All this [the aide's arrest] is a banal con aimed at pressurizing Kostya [Konstantin] Lebedev and showing him that Udaltsov has sold him and is free himself," the Left Front leader stated to journalists prior to the court hearings on Thursday. He expressed hope that Lebedev "won't lose his head and rise to the provocations."Earlier this week, Russia's Investigative Committee launched a criminal case against Lebedev, Udaltsov, and Leonid Razvozzhayev, an aide of State Duma Deputy Ilya Ponomaryov. The probe was opened after investigators examined the claims made in a controversial documentary "Anatomy of a Protest 2" aired on Russian NTV channel early in October. The film showed what its producers claimed to be footage of the suspects meeting with Georgian officials, where they allegedly discussed preparations to organize mass riots against Vladimir Putin's government in Moscow and other Russian cities with financial support from abroad. On Wednesday, law enforcers searched the suspects' apartments after which Udaltsov and Lebedev were delivered to the Investigative Committee for questioning. Razvozzhayev's whereabouts were not established, the committee's spokesperson Vladimir Markin said.