More arrests in opposition March of Millions case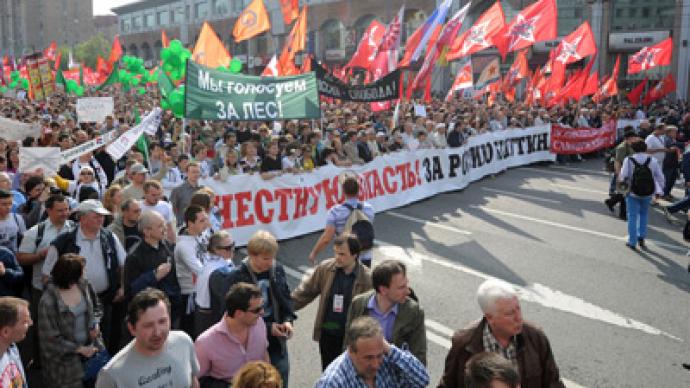 Two more suspects have been detained over the May 6 Moscow clashes case. Meanwhile, the opposition is planning to stage a rally on Thursday in support of all the arrested following the so-called March of Millions.
The Russian Investigative Committee has confirmed the detention of Nikolay Kavkazsky and Aleksey Polikhovich as part of an inquiry into the May 6 clashes on Bolotnaya Square in downtown Moscow. They will soon be charged with calling for mass riots, the committee's spokesman, Vladimir Markin, told Interfax. The law enforcers searched the suspects' homes and confiscated their computers and clothes they allegedly wore during the event. Investigators are continuing their work on identifying other participants in the mass riot on Bolotnaya Square, Markin added. Meanwhile, the Memorial human rights center has included the two detainees in its list of "political prisoners.""It's absolutely obvious that new arrests are politically-motivated. We consider all the arrested in the Bolotnaya Square case political prisoners," one of the leaders of the organization, Oleg Orlov told the agency.So far, 12 people have been taken into custody following the March of Millions, which was sanctioned by authorities but ended up with clashes between police and protesters. About 30 policemen and dozens of protesters were injured. As a result, over 400 out of about 8,000 rally participants were detained back in May. The opposition stated the police was hampering the event, while the police accused the protesters of an intentional provocation. Later, several opposition movements organized "May 6 Committee" to support those arrested after the rally. On Thursday evening they are going to stage a 1,500-strong rally in the center of the capital, which was approved by Moscow authorities. The event organizers have invited judges, Internal Ministry's chiefs and investigators to attend the gathering. The May 6 Committee wants an explanation as to why judges "unconditionally accept" police testimonies and prosecutors' requests, while "systematically decline [to accept]" evidence of detainees' innocence and reject appeals by their lawyers. They also wonder why a criminal case was not launched against police officers for abuse of power. Meanwhile, the prosecutor's office said they have information that after the sanctioned gathering the protesters were planning to hold a procession, which was not approved by authorities. They warned the participants of the unacceptability of violation of the law.
You can share this story on social media: