Russian opposition file request for new 'March of Millions' rally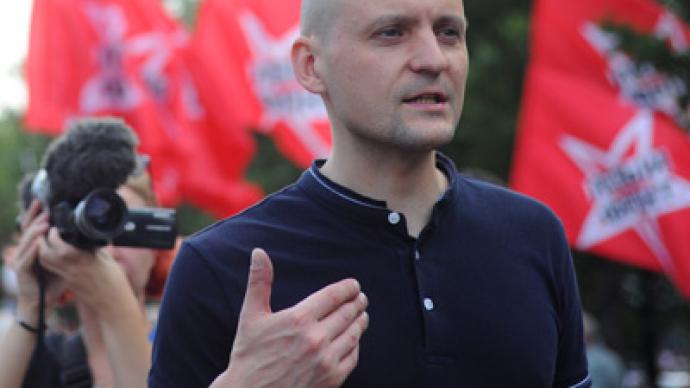 Several Russian opposition groups have requested permission to hold a 50,000-person rally in Moscow on September 15, dubbed the March of Millions.
The organizers of the march said that the rally will take place where the Federation of Independent Trade Unions held their May 1 march. The trade unions' march was approved by authorities, with President Vladimir Putin and Prime Minister Dmitry Medvedev joining in at one point. The march is planned to take place along Tverskaya Street in central Moscow, with a major rally at Borovitskaya Square near the Kremlin. The rally's organizers – Sergey Udaltsov, head of the Leftist Front movement, and Sergey Davidis, a leader in the Solidarity movement – said in an interview that in addition to protesting alleged electoral fraud, the demonstrators would also address social topics. "We will put the stress on the social sphere that is common to all. The questions of prices for communal services, salaries and crisis will be urgent in autumn. We will also talk about the ecology and of course about political prisoners, those who are accused in participation in the May 6 unrest," Udaltsov said. The previous March of Millions held on May 6 – one day before the inauguration of President Putin – erupted in violence, with clashes breaking out between protesters and riot police. Fourteen people were detained and charged with mass riots after the rally, which is a criminal offence punishable by up to 2 years in prison. Some opposition leaders allege that the detentions and prosecutions were an attempt by authorities to pressure political opponents. Authorities responded to the charges by presenting photos and videos showing the suspects throwing stones, kicking and punching police officers, and in one case putting an officer in a stranglehold.Opposition leaders also announced that they will launch a campaign on September 15 in support of elections for the Joint Coordination Council – a collective body that will plan further protests. Earlier, Aleksey Mayorov, head of Moscow's Regional Security Department, claimed that he held no prejudices against the opposition's requests, and that they would all be considered within the period required by law. Mass demonstrations on September 15 are also planned for other Russian cities. Opposition leaders have submitted a request for 10,000-person march in St. Petersburg, and provided authorities with a list of three possible venues for the event. The previous mass opposition march in Moscow took place on June 12. The number of protesters attending varied widely according to different estimations – police reported that 18,000 people attended, while the protest's organizers claimed 100,000 were present.The planned mass march for September 15 will be held under new regulations required by the Russian Law on Rallies that was enacted in early June this year. The new law introduces much harsher fines for violations: Up to 300,000 rubles (around $9,000) for private citizens if the violations result in injuries or damages to property, and up to 1,000,000 rubles ($30,000) for organizations. The bill also outlaws facemasks and other attempts by protesters to conceal their identity. The new law allows local authorities to deny permission for a rally only for invalid or illegal requests – for example, if organizers have been been repeatedly brought to court for previous violations of protest law.
You can share this story on social media: