Court upholds parole refusal for Pussy Riot's Tolokonnikova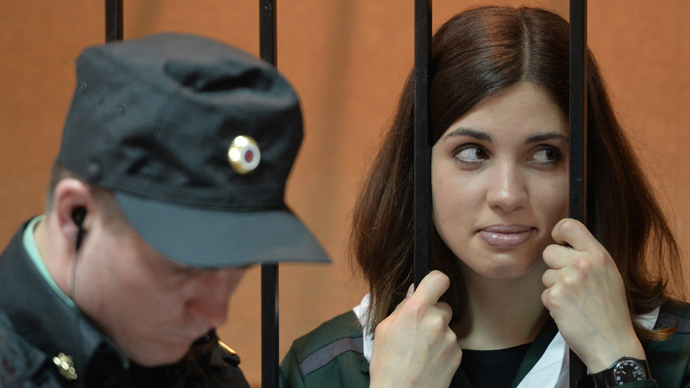 The supreme court of the Russian internal republic of Mordovia has confirmed that punk rocker Nadezhda Tolokonnikova must continue to serve her two-year sentence for aggravated hooliganism.
The court rejected Tolokonnikova's appeal against the April 26 parole rejection ruling by a court in the Zubovo-Polyansky district of the republic, which is the location of the penal colony No 14 where Tolokonnikova is now kept.
The district court explained the refusal by the remands and negative reports on the prisoner from the penal colony's administration.
Tolokonnikova was present at the court session and made an extensive speech, parts of which published on the internet by her husband Pyotr Verzilov, who also works as a promoter and press secretary for the band Pussy Riot. Tolokonnikova criticized the colony rules that had resulted in several behavior remands for her. The punk rocker also told the court that her esthetical views differed from those of the colony director and complained that all state institutions in Russia were also siding with law enforcers rather than radical artists.
Tolokonnikova also steadfastly refused to plead guilty to hooliganism, noting that she did not consider that such a step added negative points to her character and promised to continue to appeal the refusal to release her on parole in all court instances, right to the very top.
Defense attorney Irina Khrunova told reporters after the court session that they will not appeal the Supreme Court decision, but instead would file another parole request in three months. The new request will most likely go to the same Zubovo-Polyansky district court.
Earlier this week the Perm regional court rejected an appeal by another jailed Pussy Riot member, Maria Alyokhina, who also sought to reverse the earlier decision to deny her release on parole.
Her defense lawyer said that Alyokhina was planning to appeal the ruling in a higher court.
The third woman convicted in the Pussy Riot case, Ekaterina Samutsevich, was released on probation in October last year.
The three women, who called themselves feminist punk rockers, were sentenced to two years each in a penal colony in August 2012 after the court found them guilty of aggravated hooliganism for performing their 'Mother of God drive Putin away' stunt in Moscow's Christ the Savior cathedral in  February 2012.
As the regional courts prepared to announce the decision on Alyokhina and Tolokonnikova, the Amnesty International rights group published a petition signed by about a hundred pop and rock stars asking the Russian authorities to release the jailed punk rockers.
The signatories - including Madonna, Adele, Paul McCartney and Elton John, as well as such bands as U2, Radiohead and Coldplay - called the imprisonment "shockingly unjust" and asked the court to review the sentence so that the convicts can return to their families and their lives.

You can share this story on social media: