Illegal hiring of foreigners must become criminal offence - officials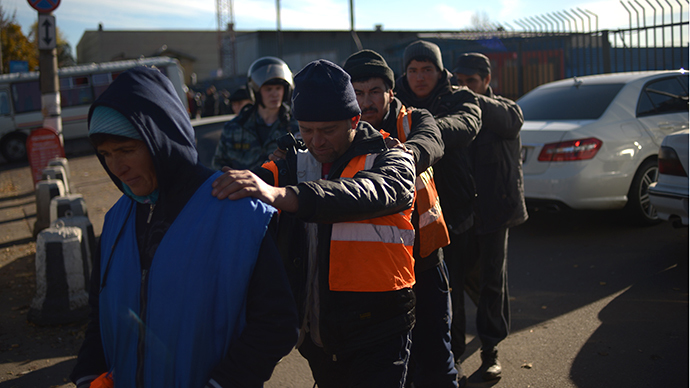 The head of Russia's Federal Migration Service has suggested criminal prosecution for those who hire illegal immigrants, while the Interior Minister said that employers must provide migrants with housing and registration.
Top ranking officials discussed the acute problem of countering illegal migration on Wednesday, about 10 days after anti-migrant riots shook the Moscow district of Biryulyovo. Since then, police and migration service personnel have conducted several raids detaining thousands of immigrants and closing several enterprises, including the now infamous Biryulyovo vegetable warehouse - one of the largest in Russia, and the whole Europe. However, since the recent events were not the first, the authorities decided to address the root of the problem.
During the special meeting in the State Duma, head of the Federal Migration Service Konstantin Romodanovsky said that the business owners who employ illegal migrants should be held criminally responsible if the number of such workers exceeds 50. Presently, violations in the migration sphere are considered misdemeanors and are punished by fines with one exception – the organization of illegal migration - which can carry up to five years in prison.
Romodanovsky also said that the authorities must stop the practice when enterprises receive quotas for foreign workers from the state and then sell these quotas to other companies or even to migrants themselves who start looking for a job in Russia after already acquiring the permit. He noted that the ban of quota reselling would allow for strict control over immigrants and the effectiveness of their work.
Interior Minister Vladimir Kolokoltsev supported the move, adding that the employers must be obliged to provide migrant workers with housing and the workers must register and stay there for the whole period of their stay in Russia. He noted that the inspections had revealed that only in the district of Biryulyovo there were at least 2,000 apartments leased to illegal migrants in violation of the law.
Kolokoltsev also praised the recently introduced law that provides for personal responsibility by the heads of regions for ethnic and religious conflicts. The draft law was being developed earlier, but the Biryulyovo events caused the parliament and the president to speed up the work on it and the bill was signed into law on Tuesday this week.
The minister noted, however, that in his view the responsibility must be shared between the heads of the regions where conflicts take place and the heads of home territories of all participants of such conflicts.
According to latest data released by the Federal Migration Service, Russia currently hosts about 11 million migrants and only 3.5 million of them have proper work and residence permits. Most of the migrants, both legal and illegal, are citizens of CIS states. About 3.5 million migrants currently live in Moscow, which has an official population of about 12 million.