Moscow anti-migrant riot: TIMELINE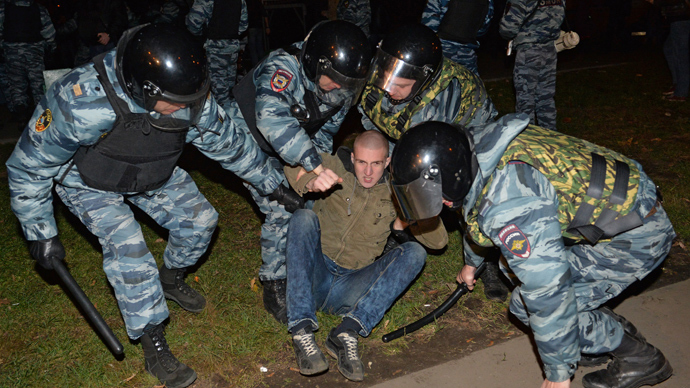 The murder of a Russian man in a Moscow suburb, allegedly by a migrant, created massive public outrage. It provoked protests, criticism of authorities and migration policies, and violent attacks on trading facilities where mostly migrants are employed.
October, 17
22:20 GMT: The girlfriend of Egor Sherbakov, who was murdered in Biryulyovo on October 10, has appeared on Rossiya 24 TV, confirming that she has identified Orkhan Zeinalov as the killer.

20:24 GMT: Russia's Investigative Committee spokesman, Vladimir Markin, said that Orkhan Zeinalov "really offered resistance" during his arrest on October 15.

"That stiffness, with which we detained him, matches the crime that he committed," Markin told Russia's Channel One.

18:00 GMT: The number of crimes committed by foreigners in Russia has increased by 40 percent in 2013, with nearly every sixth murder and every third rape committed by citizens of CIS states, according to Investigative Committee statistics.

17:43 GMT: The Presnensky Court of Moscow has placed the director of Concord security firm, Viktor Kotelvsky, and the head of Novye Cheremushki company, Magomed Churilov, under two-month arrest on suspicion of organizing illegal immigration. Concord operated at the Biryulyovo vegetable warehouse, while Novye was the warehouse's main supplier.

The judge ruled that, if kept at liberty, Kotelevsky may try to pressure the witnesses or flee. The CEO of Biryulyovo vegetable warehouse, Alishab Gadzhiev - who is still at large - has been placed on the federal wanted list.

16:20 GMT: The Presnensky Court decided to arrest Azerbaijani citizen Orkhan Zeinalov until December 10. He is accused of murdering Egor Shcherbakov, a 25-year-old Russian, in Moscow's Biryulyovo district on October 10.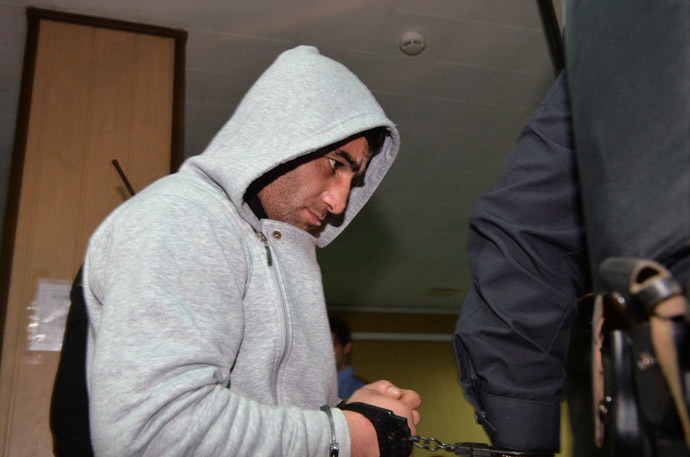 15:57 GMT: Orkhan Zeinalov, who is suspected of murdering Egor Sherbakov, has retracted his confession statements, saying that he wasn't in Moscow's Biryulyovo district at the time of the crime. 

"I object. I didn't kill," Zeinalov said during the hearing at the Presnensky Court while asking to be released on bail.

October, 17
16:08 GMT: Moscow's Tverskoy Court has ordered the pre-trial detention of two man, suspected in orginizing last weekend's violent protests in Biryulyovo. One of the two men, Timur Musikayev, 23, is accused of being involved in the attack on a shopping mall and of attacking a police officer. Musikayev admitted that he threw a trash bin at the policeman, but has pled not guilty to charges of hooliganism. He faces up to seven years in prison if found guilty.

13:54 GMT: Azerbaijan has strongly criticized Russia's law enforcement agencies for the violent detention of Orkhan Zeynalov, saying that their actions, as well as the public descriptions of Zeynalov as a "killer" instead of a suspect ahead of any trial contravene the legal presumption of innocence.

"Inappropriate measures by law enforcement bodies in Russia, and the inciting stance of the local media, can have a boomerang effect," said Ali Hasanov, the head of the Azeri presidential administration's political department.

12:33 GMT: Moscow Presnensky Court has remanded Orkhan Zeinalov into custody for two months, until December 10. He will be officially charged with murder in coming days. Meanwhile, Zeinalov insists he "did not kill" and asked the court to release him on bail.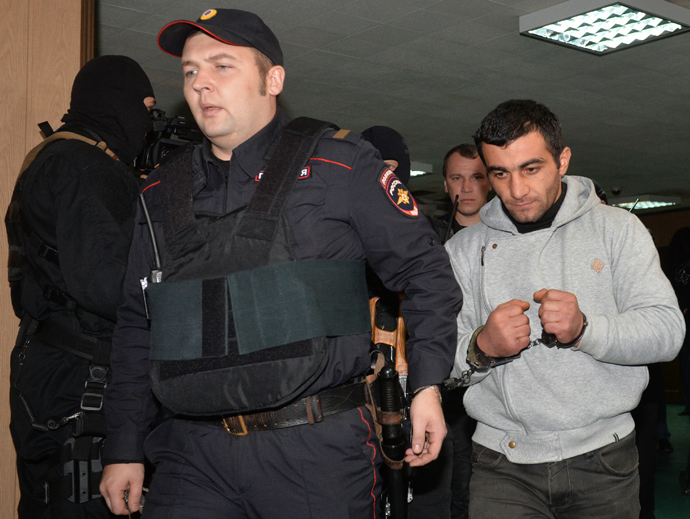 12:06 GMT: During the court hearing Orkhan Zeinalov denied his previous confession of killing Egor Shcherbakov, a 25-year-old Russian, in the Moscow outskirts district of Biryulyovo.

09:06 GMT: The suspected Biryulyovo killer has been delivered to Presnensky Court in Moscow Thursday morning.

03:05 GMT: Russian authorities have begun a massive operation to check up on all of the major food markets, Kommersant newspaper reported. Inspectors have already visited five out of 15 major bases in Moscow. Local officials stated that inspections will not affect the supply of food in the city.
October, 16
17:00 GMT: About 100 illegal immigrants, mostly from Uzbekistan and Tajikistan, will be deported from Russia following Sunday's anti-migrant riots and raids in Biryulyovo, according to a local Moscow court decision.

Meanwhile the 30 year Orkhan Zeinalov who allegedly killed Egor Shcherbakov and triggered the riot said that he acted in self-defense.

15:15 GMT: Orkhan Zeinalov, the 30 year old Biryulyovo suspected killer, had been sentenced to one year in prison and deprived of a driving license for violating traffic rules in 2011, said the spokesman for the Investigative Committee Vladimir Markin. After Zeinalov was released from the Kaluga detention facility in 2012, he immediately began to work illegally as a private taxi driver.

13:20 GMT: The police cannot trace the administration of the Biryulyovo vegetable warehouse, the site of Sunday's anti-migrant riots.A criminal investigation for organizing illegal immigration has been launched against the administration of the warehouse, said head of the Federal Migration Service, Konstantin Romodanovskiy.

13:00 GMT: The father of Orkhan Zeinalov, detained on suspicion of murdering a 25 year old man in Biryulyovo, said he apologizes for his son and regrets his actions.

"I have two sons and two daughters; you realize that it is difficult to raise four children. [Orkhan ] wanted to help me. To do this, he left [Azerbaijan]. I am very sorry that this has happened, I apologize for my son," said Zeinlov Snr. To the Russian NTV TV channel.
He added that in Moscow his son was engaged in business affairs, as he did not have such opportunities at home.

12:30 GMT: A local Moscow court has decided to suspend the work of the 'Novye Cheryomushky' company, which runs the vegetable warehouse in the Biryulyovo area, location of Sunday's anti-migrant riots. The claim to close the warehouse was made by Russian health watchdog Rospotrebnadzor, following the revelations of various health violations.
"There are problems with rodents - mice and rats who are carriers of infectious diseases" said Russia's Chief medical officer, Gennady Onischenko.
Meanwhile, Moscow mayor Sergey Sobyanin previously said that the warehouse may be closed permanently.

11:25 GMT: The 30 year old suspect killer of Egor Shcherbakov, Orkhan Zeinalov, previously served a sentence in one of the colonies of the Kaluga region, about 150 kilometers from Moscow.
He was characterized negatively and was punished 16 times, the official representative of the Federal Penitentiary Service Christina Belousova told RIA Novosti.The circumstances of the crime for which the man served time are yet to be specified, however it is thought to be for grievous bodily harm.

Zeinalov served his sentence in full and was released on April 6, 2012. Following release, he started working as a private taxi driver.

October, 15
18:33 GMT: Zeinalov has admitted killing the 25 year old Egor Shcherbakov in Biryulyovo during an unofficial conversation with the security services, stated the press-service of the Interior Ministry.

17:40 GMT: 276 people have been detained during a nationalist gathering in south Moscow near "Prazhskaya" metro station, said the police, adding that nearly a third of those apprehended were underage.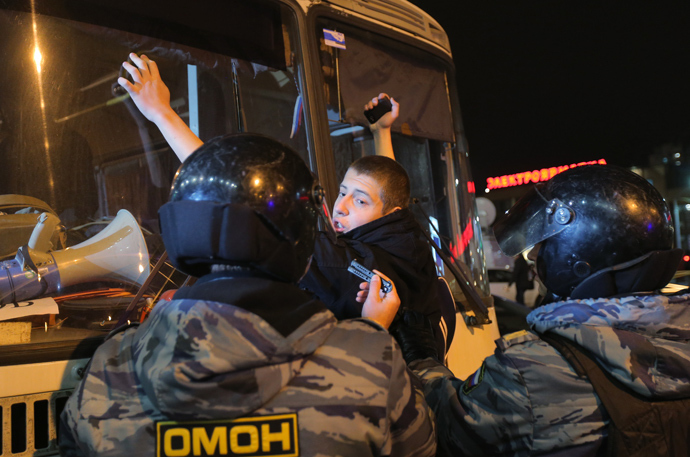 Anton Shcherbakov, brother of the murdered man from Biryulyovo, urged Muscovites to refrain from provocations and to avoid conflicts with security forces.

"I really don't want Egor's name to be used by third persons indiscriminately.  I stand for a legal solution of the issue" he added.

16:50 GMT: Zeinalov will be punished in accordance with his offense, as "there is no doubt that this is the person who committed the crime" said Vladimir Markin, spokesman for the Investigative committee.
Meanwhile, the Interior Ministry said it will pay the person who helped track down Shcherbakov's suspected killer 1 million rubles (around US$31,000).

16:30 GMT: The suspect killer of Shcherbakov, Orkhan Zeinalov, has been transferred from Kolomna city to Moscow by helicopter and is being held in a temporary detention center.
16:15 GMT: Police have detained fifty "nationalists" near "Prazhskaya" metro station for attempting to disturb public order, said the Interior Ministry in a statement. There were no locals among the detained.

14:15 GMT: Two shopping malls in the south of Moscow, near metro station "Prazhskaya", were closed earlier in the day, after calls on social networks pressing for a nationalist rally at 7 pm local time (15 GMT). Police have been patrolling the area and have detained several people, including one in possession of brass knuckles.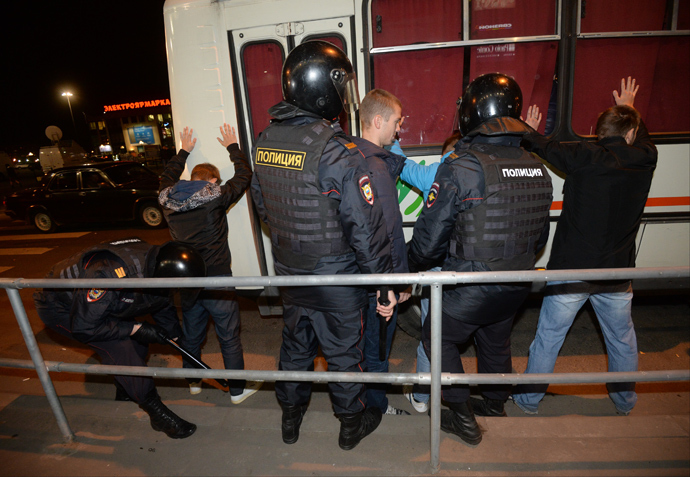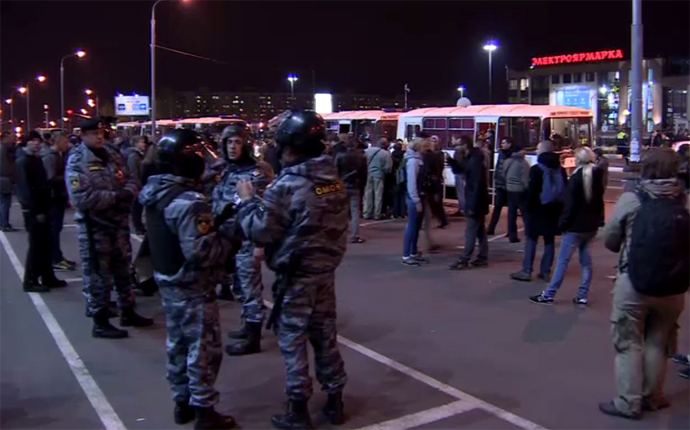 14:00 GMT: The official website of the Council of Muftis in Russia – muslim.ru - has been hacked. Initially the message on the website read that the provider was not available, but soon after that an image of a pig holding a Koran in its teeth appeared. The message was reportedly meant to desecrate the domain name, so the Council of Muftis could not keep the site at this address.  According the Council's statement, the origin of the attack was established and the information given to the police.

13:12 GMT: Police have detained the suspected killer of Egor Shcherbakov in the city of Kolomna, near Moscow, the Interior ministry announced. He is currently being transferred to the capital.
Orkhan Zeinalov Zakhid-Ogly, a 30 year old  Azeri national has been living in Russia for more than ten years, but has no steady income and has been working as a private taxi driver, said the spokesman from the Investigative committee, Vladimir Markin.
"He is known to be hot-tempered, aggressive, an abusive alcoholic, who does not have a permanent residence in Moscow," he added.

09:00 GMT: The police chief for the Biryulyovo area, Aleksandr Podolny, is to be dismissed over the anti-migrant riot, Moscow police chief Anatoly Yakunin indicated.

08:55 GMT: The suspected killer of Egor Shcherbakov is wanted for a murder back in Azerbaijan, Moscow police chief Anatoly Yakunin stated.

07:30 GMT: Police announced they have established the identity of the suspected killer of Egor Shcherbakov, whose death last week prompted massive rioting in the southern part of Moscow over the weekend and on Monday.
"According to our information, this is Orkhan Zeinalov Zakhid-ogly, an Azeri national," said the police's press service, as cited by Interfax.

Police are now seeking help in finding the man, but urge citizens against taking any action on their own.

"In case of visual contact with this person you should be cautious. We also ask you not to interact with him," police warned.

October, 14
20:17 GMT: The Biryulyovo area is being monitored by the police force and voluntary squads of local residents. The volunteers do not belong to any political movement and just want to ensure the safety of the area, instead of "some other form of people who identify themselves as nationalists," said one of the patrolling residents Mikhail Eryomenkoto Itar-Tass news agency.
18:35 GMT: Moscow authorities plan to close down the Biryulyovo vegetable warehouse. It will be closed after a court decision which should follow a claim from the Russian consumer rights watchdog Rospotrebnadzor, said the head of Moscow's South administrative district Georgy Smoleevsky.
18:24 GMT: Police in Krasnodar, a city in the south of Russia, have prevented an attempt to hold an unsanctioned nationalist rally. Dozens responded to calls on social networks to protest in support of the residents of Moscow's Biryulevo district. The area in the center of Krasnodar was cordoned off. The peaceful protest began to disperse after a police suggestion for the youths to join voluntary squads and help their work against illegal immigration.
18:08 GMT: Dozens of protesters are rallying at the Biryulyovo district's shopping center demanding the authorities toughen the immigration policy in Russia, Interfax news agency reported.  About twenty security guards are monitoring the situation, there have been no clashes reported yet. However, the Echo of Moscow radio station reports that more than ten people have been detained.
Another group of Biryulyovo residents are holding talks with the district authorities in the the district council building, Interfax reports. Meanwhile, according to RIA Novosti news agency, the residents were to meet the representatives of the administration, but the meeting did not take place.

17:27 GMT: Clashes have erupted in Saratov, 847 kilometers south-east of Moscow, between locals and migrants from the Caucasus. While over twenty men were involved in the fight, only one was detained. The reason of the conflict is yet unknown.
17:18 GMT: Over a hundred people have gathered for a rally demanding a meeting with the head of the Biryulyovo district.
Более ста человек требуют встречи с администрацией у управы в Бирюлеве http://t.co/wqtE9MqC4Fpic.twitter.com/92xTrjnfwO

— Ты — репортер (@you_reporter) October 14, 2013


16:05 GMT: Locals and police have gathered at the Biryulyovo-Tovarnaya railway station, a local tabloid Life news reported on its Twitter account.
На станции Бирюлево-товарная собрались местные жители и сотрудники полиции. #Бирюлевоpic.twitter.com/tV2EXfxUey

— LIFENEWS (@lifenews_ru) October 14, 2013
15:45 GMT: Because of the violations the court may close the vegetable warehouse in Biryulyovo "at least for 90 days" or even permanently "on the basis of impaired working conditions for staff and unsecure storage conditions," said Russia's Chief medical officer Gennady Onischenko.
15:30 GMT: The Council of Muftis of Russia has called the man who killed Shcherbakov to give himself up to the police. According to the deputy chairman of the council, Rushan Abbyasov, religious leaders always pay attention to the fact that "if a person has committed a crime, then God teaches us to repent, and ask for to forgiveness for his mistakes."
14:40 GMT: Moscow authorities have promised to prevent any provocative acts during the celebration of the Muslim holiday Eid al-Adha in the capital, deputy head of the regional security Vasily Oleynik told RIA Novosti.
About 4,000 security officers will be ensuring public order during the holy Muslim religious holiday of Eid al-Adha, the Feast of Sacrifice in Moscow on Tuesday, the Interior Ministry said in a statement. It will be forbidden to carry sharp objects, large bags, plastic, glass and other containers with liquids to places of celebrations, as about 100,000 people are expected to attend them.
Meanwhile, the Russian Migrants Federation has urged ethnic minority communities to remain on alert in the wake of disturbances of Biryulyovo.
14:30 GMT: Crowds have started gathering at the Biryulyovo-Tovarnaya railway station located in the Biryulyovo district, close to the place of the Sunday riot, a local tabloid Life news reported.
14:20 GMT: A local Moscow court has fined five of the protesters detained in Sunday's southern Moscow riot, 3,000 rubles (about $90) for taking part in an unsanctioned gathering in a public place that disrupted public order, RAPSI news agency reported.
14:15 GMT: The Investigative Committee is conducting a search of the vegetable storage warehouse in Biryulyovo and confiscating financial and employment records, the committee said in a statement.
14:00 GMT: Reuters reported that another 450 were detained in northeastern Moscow, also near a vegetables market employing migrant workers. However Russian media reported that only 80 people were detained and the Russian Interior Ministry said that there was no connection with the Biryulyovo raid.
13:40 GMT: The leader of the Fair Russia party, Sergey Mironov, has advocated the introduction of visas and fingerprinting for migrant workers, and of tougher penalties for employers who hire illegal immigrants.
"I believe that instituting a visa regime with the countries that supply the highest number of illegal immigrants, with the highest crime rates, is a necessary, but perhaps temporary measure," he said.
13:25 GMT: Several suspects in the murder of Egor Shcherbakov have been detained, Moscow police chief Anatoly Yakunin said. He added that witnesses would be able to identify the suspects, and that the investigation is ongoing.
09:50 GMT: A car with money, three pneumatic pistols, two knives and a baseball bat inside has been found at a vegetable warehouse in Biryulyovo, Moscow police say. The warehouse has been closed for five days.
09:14 GMT: Moscow police say 1,200 people have been taken into custody after a raid at a vegetable warehouse.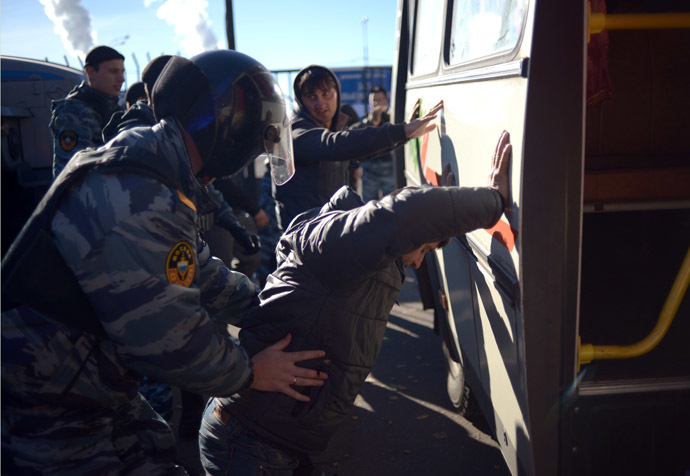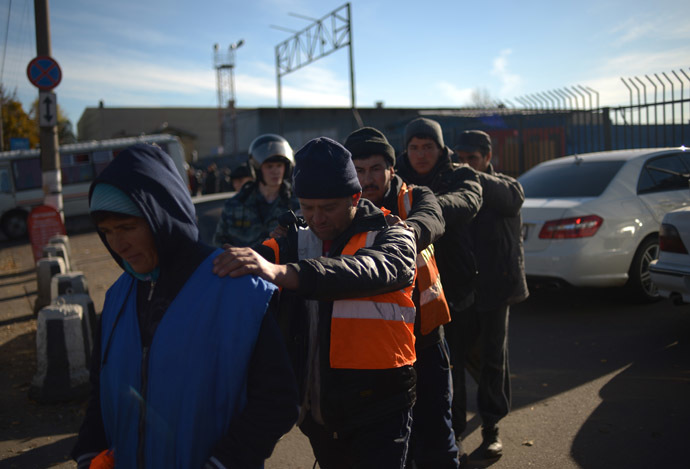 07:47 GMT: Misdemeanor proceedings have been initiated against nearly 70 arrested protesters. Those people have also been fined. Others were freed after interrogation. Two protesters who are now suspected of having taken the most active part in the riot have been detained for another 48 hours.
07:07 GMT: A vegetable warehouse that protesters tried to storm Sunday night remains closed on Monday. According to reports, about 20 police cars have been sent there, but there is no information as to exactly why police are attending.
07: 00 GMT: As of Monday morning the situation in Biryulyovo is stable. According to the reports, nearly 300 special tactical police officers are now patrolling the streets of the neighborhood. It was also reported that they are arresting people of non-Slavic origin. Local RBK newspaper says it was told that police expect the number of arrests to grow to a 1,000.
October, 13
22:18 GMT: The police will examine the photo and video footage of Sunday clashes, RIA reports.
"Currently members of Moscow police force are studying all the massive video-photo material available in the neighborhood of Zapadnoe Biryulevo," a police source told the agency.
The police are also asking witnesses who were able to capture such material to send e-copies to the authorities as evidence.
21:37 GMT: Those 380 detained are being questioned as witnesses in a criminal case on hooliganism, police spokesman told RIA. Given the circumstances, 30 investigators are conducting urgent investigative activities on detainees over violations of public order, the source added.
21:29 GMT: Almost all participants and spectators of the unrest went home. Several people continue discussing the event with police officers, RIA reports. 
21:22 GMT: Police lifts the emergency plan "Volcano," which involved  sending scores of riot police to the scene, after order has been restored. 
20:45 GMT: The situation is calm but increased police numbers remain at the scene.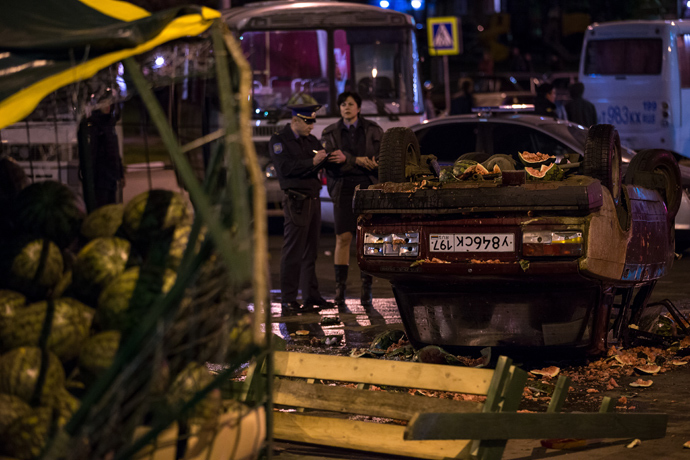 19:29 GMT: Following the clashes five people have been taken to hospital with various injuries and one more injured person refused to be hospitalized. At least 11 other people sought medical help in connection with the riots, medics said, adding that none of them were seriously injured.
Police authorities said 6 riot police officers were wounded in the clashes, including a battalion commander who reportedly received significant injuries.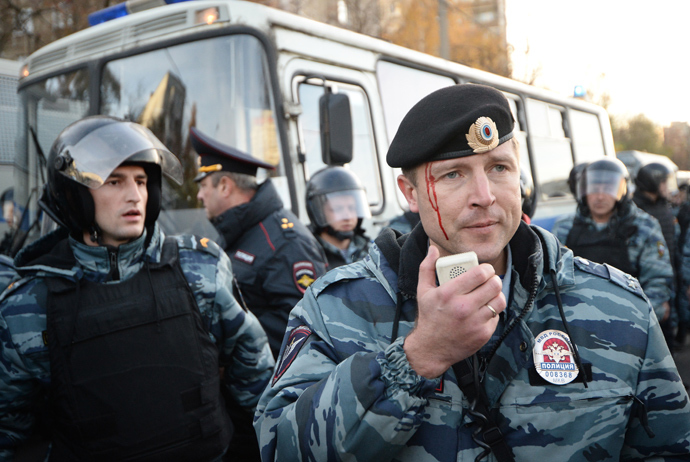 19:09 GMT:
The number of those arrested rises to 380, police says.
18:15 GMT: The total number detained in the southern district of Biryulyovo stands at 300, after another 100 rioters were apprehended, police told RIA.
16:33 GMT: The Russian Investigative Committee said that its leading criminalists, as well as the most experienced Moscow police field officers have joined the investigation of the case. More than 90 people have been questioned in connection with the killing, the Committee added. 
16:25 GMT:Police urge people to disperse peacefully arresting those who defy the order.
16:21 GMT: Interior Affairs chief Vladimir Kolokoltsev has called an urgent meeting to discuss the situation in Biryulevo.
16:19 GMT: According to official data 200 people were arrested in the southern district on Sunday.
16:10 GMT: Several dozen people have been arrested, witnesses say, while the rest start dispersing.
15:45 GMT: The crowd throws bottles at the police. Some of the activists reportedly try to start negotiations with the officers.
15:38 GMT: Riot police moved to push people back from the main entrance to the warehouse.
15:35 GMT: Police conducts mass arrests. The mob hurls bottles at riot police officers.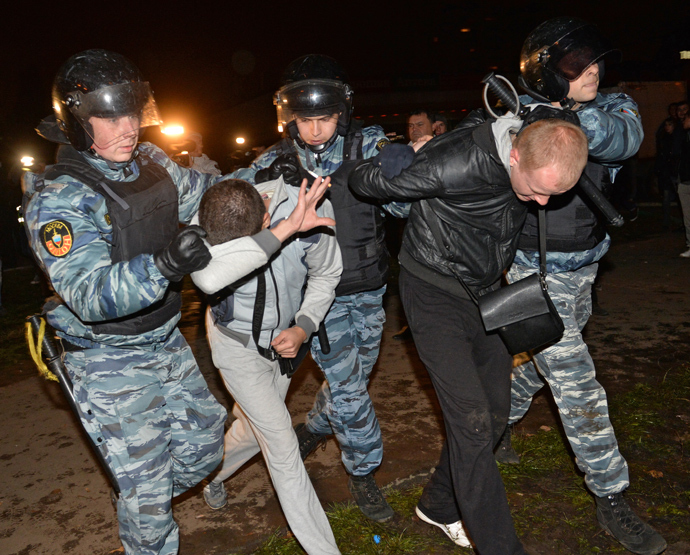 15:32 GMT: Moscow police said they were putting into effect an emergency plan, codenamed "Volcano," involving sending scores of riot police to the scene of the clashes, and placing the police officers across the city on high alert.  
15:28 GMT: There are around 1,000 people in the street near the warehouse, witnesses tell RIA. Police asks everyone to disperse.
15:20 GMT: Riot police enter the warehouse, no new arrests reported so far.
15:15 GMT: Moscow mayor Sergey Sobyanin orders a thorough investigation into the murder of Shcherbakov as well as the following unrest.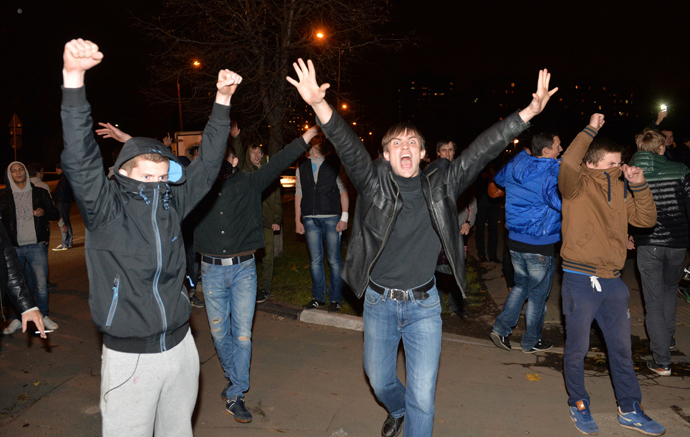 15:09 GMT: Rioters are reportedly smashing up stalls and vending machines, ransacking stores and looting goods.
15:08 GMT: Police forces arrive at the warehouse.
15:04 GMT: The crowd breaks into the warehouse, throwing bottles and rocks.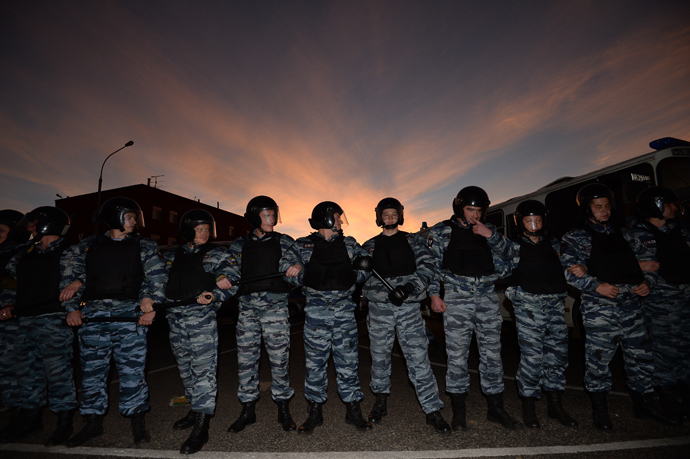 15:00 GMT: As a precaution, police have closed public access to Moscow's central Manezhnaya Square and increased presence in nearby streets. The situation in that area is generally calm and so far no aggressive groups have been noticed. 
14:55 GMT: The crowd separates. Riot police failed to block part of the crowd from rushing in the direction of the warehouse.
14:47 GMT:"The ongoing action is violating public order. Some people tried to organize riots, a police officer has been wounded. The most active participants of the action have been detained," the acting chief of the southern police district Alexander Polovinko told TV channel Rain.
Seven people were detained by 14:20 GM, Polovinko added.
"They are being held in police vehicle and being interrogated over the motives and circumstances of their actions. We might consider charging them with hooliganism."
The number of protesters stands at around 300-350 people, while the police force deployed at the scene is 200 officers including reserves, Polovinko said.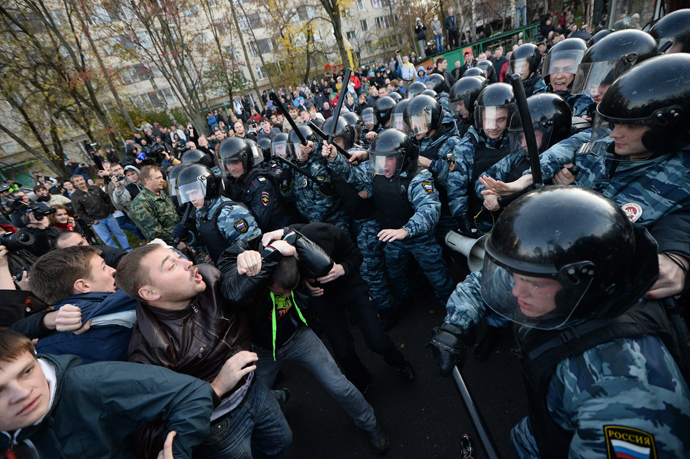 14:42 GMT: The girlfriend of Egor Shcherbakov tells Moscow 24 she is against these riots. "I don't want to heat up ethnic conflicts. I'm sure these crime won't pass unpunished."
14:25 GMT: The crowd heads toward a vegetable warehouse surrounded by police forces.
14:00 GMT: The rioters block the road with overturned truck and dumpsters. Police calls on the crowd to ignore deliberate provocations and disperse. 
13:53 GMT: The crowd follows the police van in which the detained are held, some throwing bottles at it as well as the officers.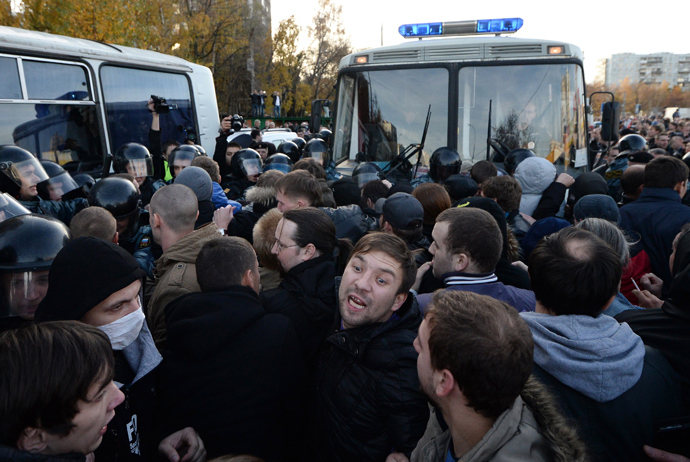 13:50 GMT: Police confirms several people have been detained for vandalism without giving exact number.
13:11 GMT: Tensions are high as the crowd headed toward a nearby shopping center. Unidentified instigators start smashing windows of the shopping center. Police detain several people.
11:30 GMT: People start gathering at the crime scene on Vostryakovsky Passage. The situation is still calm, but authorities increase police presence and send in riot police.
10:00 GMT: Local activists met with police representatives again, discussing the creation of voluntary people's guard in order to find the perpetrator as soon as possible. Authorities said that Moscow Police Chief Anatoly Yakunin takes investigation under personal control. A 1-million-rubble (around $31,000) bounty has been placed for the capture of the suspect.
October, 12
19:00 GMT: The crowd has dispersed peacefully.
18:30 GMT: Local police chief spoke to the protesters.
18:00 GMT: A crowd of around 40 people have gathered near the local police station demanding to find the murderers of Egor Shcherbakov. The protesters also demanded tightening of immigration policies and closure of a vegetable warehouse in the southern district of Biryulyovo.
October, 10
19:00 GMT: Egor Shcherbakov and his girlfriend were on their way home, when the young couple were attacked by an unidentified man who stabbed Shcherbakov with a knife. Shcherbakov's girlfriend described the attacker as a male native of the Caucasus and said that he had assaulted her boyfriend after trying to harass her.
You can share this story on social media: