Putin to officials: Keep discussions in-house or quit govt.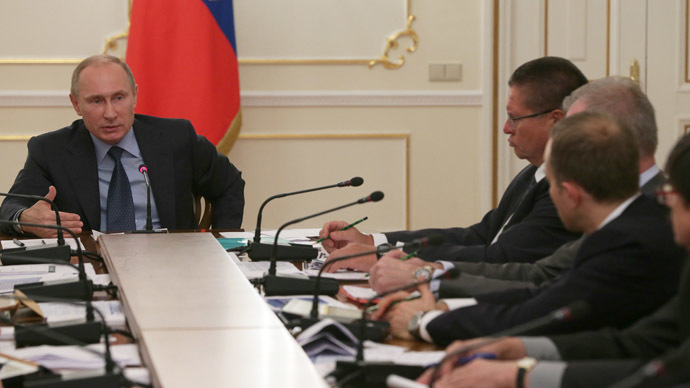 President Putin has told government officials they should either discuss complicated issues in closed mode and according to procedures or quit their posts and join the expert community, following the example of former Finance Minister Aleksey Kudrin.
The rebuke came as the head of the Russian Trade and Industry Chamber, Sergey Katyrin, questioned Putin's motion that, once approved by the parliament, would allow law enforcement agencies to launch probes into tax crimes without consulting tax inspectors.
Such a law existed earlier, but was canceled in 2011 by then-President Dmitry Medvedev as part of a larger project that liberalized the legislation on economic crimes.
After Katyrin announced that "many people" had a negative assessment of the presidential bill, Putin replied that because of the busy international schedule he had not yet studied the various statements on the subject and could have missed something.
"We will talk with colleagues and sort this out. But there is a very simple solution to this. I will have to remind them that there is an established practice of solving the questions before meeting the press. We know that if someone disagrees with something, like Kudrin in his time, he must join the expert community," Putin said.
He did not give any particular names and presidential press secretary Dmitry Peskov later declined to comment on the subject.
Putin decided to reintroduce the norm after studying the primary results of the liberalization and finding out that the changes were seriously complicating the anti-corruption drive and allowing many criminals to escape justice.
"The practice shows us that the liberalization is not working the way it should," he said at the session of the Russian Anti-Corruption Committee in late October.
At Monday's session of the Agency for Strategic Initiatives, Putin reiterated his stance, saying that while tax crimes are considered among the most serious in most countries, the fight against them in Russia is not fierce enough. He noted that currently convicted tax dodgers have been ordered to return 1 billion rubles (about US$30 million), but had only returned 4 million rubles (about $120 000).
"This means that the criminal code simply stopped working and of all cases that were initiated only three suspects were convicted, and two of them got suspended sentences," Putin said.
Aleksey Kudrin was Russian finance minister for 10 years and quit the post in September 2011 after telling US reporters that he disagreed with the course on increased budget spending and "saw no place for himself" in Dmitry Medvedev's government. (At that time it had become clear that Medvedev would become PM in case of Putin's re-election as president.)
Shortly after Kudrin's resignation Vladimir Putin called him "very useful and necessary," said that they were personal friends and assured that Kudrin would remain in his own team.
In early 2012, Kudrin founded and headed the Committee of Civil Initiatives – an independent think tank with the official objective of establishing the best scenario of national development.
Since the start of its work the committee issued several rather pessimistic forecasts and urged deeper reforms in order to evade stagnation. Kudrin himself has blamed parliamentary majority party United Russia for the economic hardships, but also criticized the existing political opposition for being too vague and indecisive.
On November 1 this year Kudrin joined the Presidential Economic Council – the consultative body set up to work on operative economic issues and chaired by Putin himself.