Job does not give Putin nightmares
Published time: 7 Jun, 2011 07:21
Edited time: 7 Jun, 2011 19:13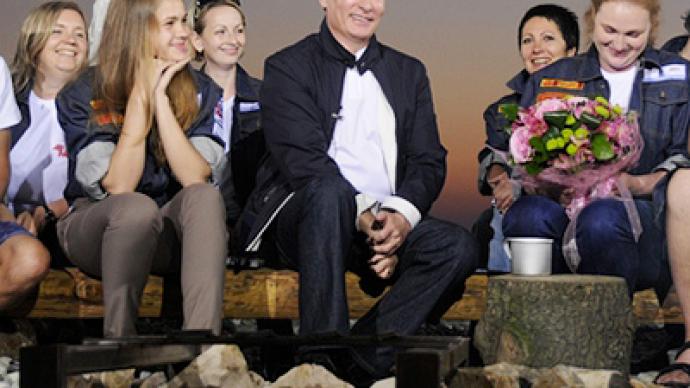 Prime Minister Vladimir Putin has met with volunteers working at construction sites for the Sochi Olympics, to talk about everything from sports and visa issues to his pension plans and the beauty of Russian nature.
On Monday evening, Putin had an informal chat with the so-called construction team at the camp on the Black Sea shore. The group of volunteers from all around the country comprises of the winners of a contest held by AutoRadio who came to the Russian resort city to help with the construction of Sochi 2014 Winter Olympic facilities.
Putin arrived at the meeting by boat, with a bouquet of flowers for one of the volunteers' birthday.
During a conversation on the beach around a campfire, one of the volunteers wondered why Russia needs the Sochi Olympics as the country is just recovering after the financial crisis that hit the entire world.
According to Putin, it is always good to have future perspectives."Our general perspective is the plan for the development of the country by 2020," he said. According to the premier, people should have good expectations since it cheers them up. But it is also important to develop sports in Russia, he stressed, adding that in that respect the country is still lagging behind leading economies.
There are some skeptics who have always felt badly, no matter who was in power. "But we need such people because that keeps authorities awake," Putin noted. There is also the opposition who approves of the ruling power's ideas, but claim that they would have fulfilled them better. "It is also natural and normal," he observed. And, also, there are people whose lives were directly interfered with by the Sochi Olympics projects as they had to move from the site.

"The task of the state is to make sure that people do not get affected, but on the contrary win [in such a situation]," Putin stated. And, the prime minister believes, that in this particular case many locals benefited from the projects as it is unlikely they could have afforded to buy new houses similar to those they were given by the state in exchange for their old homes.
Another volunteer recalled that Putin confessed to working like "a gallery slave" and said that it often occurred to him he was "a cart horse". "Are you not tired?" the construction team member wondered.
"Do you want me to retire?…It is too early, even under the law," Putin responded. He said that he does find time to get some rest and see the family. As for his thoughts about the future, the prime minister said that self-expression and ability to achieve goals that were set is most important for him.
"Some people work voluntarily to do something useful and that is their way to assert and express themselves. Such symbiosis is what brings the utmost satisfaction from life. I have an inner belief that, on the whole, I succeed. And that is what really gives me satisfaction," Putin said.
He was also asked whether his job gives him nightmares. The premier assured that he does not dream about work-related issues. The trick is to change activities, he explained. "We have gathered in… Sochi – so we should do sports. And that is what I am trying to do," Putin said, adding it is also good to meet with friends once in a while.
Travel became yet another topic of conversation. Putin spoke with great ardor about his trips around the country and recalledthe magnificent scenery and wild animals he was lucky to see when visiting different parts of Russia's vast territory.The volunteers, in response, complained that because of high ticket fares it is often cheaper to travel abroad.
Visa-free travel was also touched upon. A meeting participant from Russia's westernmost exclave Kaliningrad suggested that Moscow and the EU should agree upon easing travel restrictions for residents of the region. The prime minister ruled out the possibility.
"We do not want to make exceptions for any region. All citizens in Russia should have equal opportunities," he stressed, as cited by Itar-Tass. "If they solve the problem with the [Kaliningrad], they will make it impossible to facilitate the visa regime for the rest of the country," he added. According to the premier, there seems to be an agreement with Poland on visa regime with Europe "but there are now problems with Germany".
Among the participants of the Sochi construction teams are ordinary people who have contributed to the development of their hometowns, and also famous Russian artists and singers. Three shifts of volunteers will be working for a week clearing up future Olympic pistes at Roza Hutor ski resort.
The atmosphere of the meeting was similar to that of Soviet romanticism when students united in teams to spend their summer holidays working on various construction sites: a tent, guitar songs, campfire on the shore, and hot tea from aluminum mugs.