Who's that cat they chose for the Olympic mascot?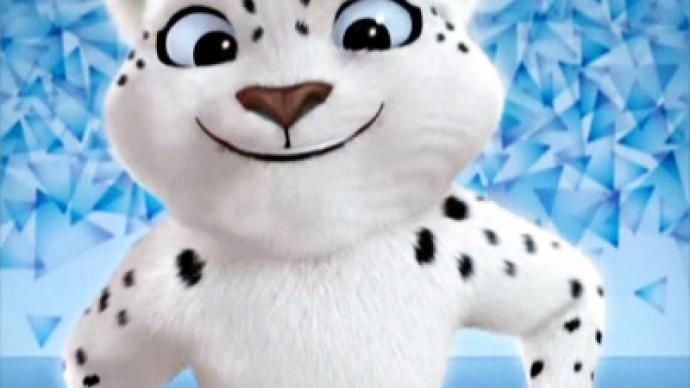 Biologists failed to identify the big cat which has been chosen as one of the three mascots of the Winter Olympic Games in Sochi.
The snow-white feline with its spotted coat named 'Leopard' received 28% of the votes in a nation-wide poll last Saturday. However the beast, which won the approval of many Russians, including Prime Minister Putin, does not exist according to biologists of the World Wide Fund for Nature (WWF).Three species of the Panthera genus live in Russia. They are "tiger" (Panthera tigris), "leopard" (Panthera pardus) and "snow leopard" (Panthera uncia). The Caucasus Mountains is the place where "leopard" (panthera pardus) lives, which corresponds to the mascot's background of being a mountain rescuer living not far from Sochi.The story however adds that his home is in the crown of a large tree growing at the snowy pinnacle of the highest mountain in the range. That would be "snow leopard" (panthera uncia), which, unlike its cousin, is good at walking on snow. However, "snow leopard" lives in the Altay region in south-western Siberia.
Apparently the mascot "Leopard" is a mixture of the two related species, with an appearance closer to Panthera uncia and the habits and habitat of Panthera pardus.
"WWF hails the choice of an endangered animal as an Olympic mascot, be it the snow leopard or the leopard, but the organisers of the 2014 Games should make up their mind about which one they have in mind," explained Igor Chestin from the Russian branch of the WWF. The International Olympic Committee's rules don't require that a mascot must have a real-life basis, and indeed many successful mascots are beings of pure imagination. Sochi's leopard isn't any less cute, as fans would point out, from the confusion about its biological origin.
You can share this story on social media: