Developing Zika markers for 'preventive purposes' is quite realistic – Russian health minister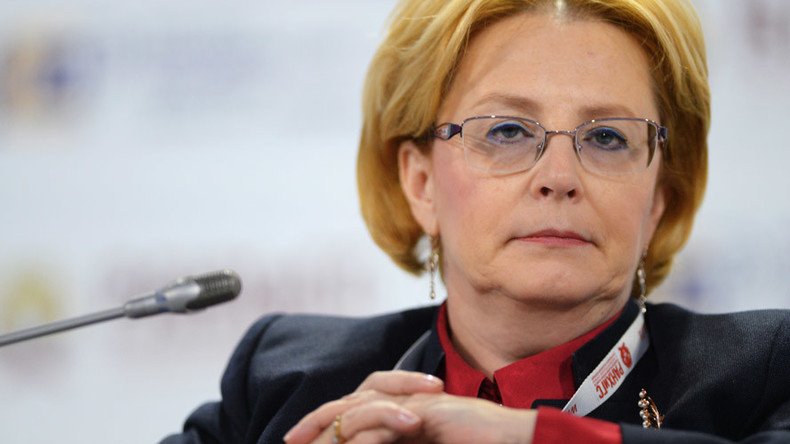 Russian scientists are studying the Zika virus and have already developed pilot samples of medication that could potentially be very effective in a "specific therapy" for the tropical disease, health minister Veronika Skvortsova said in an interview with RT.
RT:Madame Minister, your just spent a lot of time meeting with WHO Director General Margaret Chan. Could you tell what that was about?
Veronika Skvortsova: We discussed ways for Russia to get more actively involved in combating the Ebola virus disease (EVD). There was an important meeting in October 2014, when Ms Chan met with Russian President Vladimir Putin. Together, they decided on the elaboration of a comprehensive plan for Russia to join the fight against the EVD. We did a lot of work in 2015, setting up a laboratory in the Republic of Guinea, developing special airlift capabilities to transport infected patients, establishing a hospital in Guinea, supplying the country with humanitarian aid, etc. In parallel to that, we started developing a whole range of vaccine candidates against the Ebola virus in October 2015. We deliberately included among them vaccines based on different biological mechanisms. Starting from mid-2015, we already knew for sure which of the vaccine candidates were the most efficient ones, so we could focus on developing those vaccines specifically. At the end of the day, two of the vaccine candidates were selected for actual use. One of them is truly groundbreaking, with its structure based on two virus vectors, and on the so-called "booster effect," where one of the virus vectors activates the other one, so we get a stronger and more lasting impact.
We completed a full sequence of pre-clinical tests using apes, and then carried our first – and second-phase clinical studies using 160 human volunteers. The vaccine I was just referring to, the one named Combi, was tested on 84 volunteers. The results tell us the vaccine is safe, it is very well-tolerated, it has almost zero side effects, and it has an incredible immunity-boosting effect, affecting both humoral and cell-mediated immunity. Suffice it to say that 100 percent of the inoculated volunteers showed very high anti-Ebola titers even at a very low dilution. We have been observing those volunteers for some 4.5-5 months by now, and we see that those titers have remained high. Besides, when we take the inoculated volunteers' serum and use it against a wild-type Ebola virus in laboratory conditions, the serum completely neutralizes the virus. That is absolute proof that the vaccine is efficient, as well as safe.
We registered two vaccines in December 2015: the Combi vaccine which I've already described, and the other one, designed for inoculating immune deficient patients. Its peculiar feature is that it doesn't affect humoral immunity, and only engages cell-mediated immunity while increasing the level of the vitally important interferons and certain other immune molecules by several decades.
Both vaccines have been registered, and by now they will have also been patented in Russia. Shortly before New Year, we received a letter from the Pasteur Institute in Guinea inviting Russia to apply those vaccines in the country. A delegation of the Russian Healthcare Ministry visited Guinea in January. We had meetings with medical experts including the heads of various research units within the Pasteur Institute, as well as with representatives of the Guinean Healthcare Ministry and the Ministry of Education, and the Guinean president.
We will be able to provide the necessary quantities of the vaccine within the next two months, with a view to field-testing it on at least 4,000 trial patients in the Republic of Guinea. We have drawn up a plan for those field tests. It is specially designed to allow us to compare the efficacy of the Russian vaccine against its foreign-made analogues.
RT:That's phase three of your studies, am I correct?
VS: In fact, this is phase four of the post-authorization studies. At the moment (and this was confirmed today during my meeting with Ms Chan), the Russian vaccine is the only vaccine that has been registered and authorized by national law. The other vaccines are all currently in phase three of their clinical studies, for various reasons.
In order to demonstrate our transparency, we are prepared to join the research done by foreign companies, and, more than that, we can help in shaping their research design and propose additional immunity tests to get a deeper insight into the effect of these vaccines. What we agreed on today was that WHO observers will be fully briefed on the research and given the opportunity to take part in any aspect of it. Hopefully, most of the work will be done during 2016 so that together with the WHO we can agree on the future application of the vaccine.
RT:At the presentation, the developers were reluctant to give a price tag saying it's too early. When will they be able to give a specific figure? As for developing nations, I believe, Russia is prepared to supply the vaccine even today?
VS: We are providing vaccines for free for the first group of 4,000 patients. The cost price is not really high but I would rather not give out any figures. A market is a market, we all understand this but we are also aware of the fact this vaccine is aimed to prevent what could become fatal epidemics. So in my opinion any attempts to extract too much revenue from it would be simply immoral. So the selling price will be just above the cost price limiting the margin to a level sufficient to support ongoing production.
RT:Moving on to the Zika virus. It's extensively covered in the media, causing a public scare. Is Russia planning to develop a vaccine or maybe research is already under way?
VS: Indeed, the first Russian case of the Zika virus was reported just recently – I am referring to a resident of Moscow who returned from a family vacation in the Dominican Republic. She didn't have any symptoms at first but we know that the incubation period lasts two weeks. So a couple of days later she found symptoms of what she judged to be ordinary flu. The symptoms were, however, followed by a rapid rash which was what prompted her to consult a doctor. Otherwise, she might have not been alarmed at all. She was immediately taken to hospital and placed in a special isolated ward at an infectious diseases division. After a week of treatment her condition was classified as 'satisfactory'. It's also important that neither her son's nor her husband's tests prove positive. If a second round of tests finds no Zika virus present in her blood, it means the woman has been cured and can be safely released.
We are indeed working on the Zika virus and other tropical diseases. By now we can offer several options for tests. Actually, we used one of these tests to confirm the diagnosis of the first Russian case, identifying the same strains that are found today in Latin America.
Furthermore, we have developed pilot samples of medication that could potentially be very effective in a specific therapy for the Zika virus. We can now consider developing vaccines. But during the meeting with WHO General Director, Dr Margaret Chan, we discussed another option – and that is engaging leading Russian scientists in scientific groups which would study the impact of the Zika virus on certain segments of nerve tissue that could, in rare cases in adults, lead to the so-called Guillain–Barré syndrome, this is a type of demyelinating polyneuropathy with an ascending paralysis that strips the nerve trunks in human limbs of the myelin sheath. It could also lead to microcephaly in pregnant women.
So the two major issues the world scientific community is facing is, first, understanding the nature of the mechanisms allowing this virus to have such an impact on nerve tissue and, second, finding a way to identify symptoms at an early stage of pregnancy, rather than at a much later time when we see an already developed microcephaly during an ultrasound scan.
We believe it is quite realistic to come up with biomolecular markers that could be applied for preventive purposes provided that we get deeper knowledge of the mechanism causing these malign changes. So we expect to join these research groups in the near term.
RT:Ms Skvortsova, thank you so much for finding the time in your busy schedule here in Geneva and sitting down with RT.
VS: Thank you so much.
RT:Good luck in all your endeavors.
VS: Thank you.
You can share this story on social media: