Brazilian state suspends chemical used to fight Zika over fears it may be behind brain defects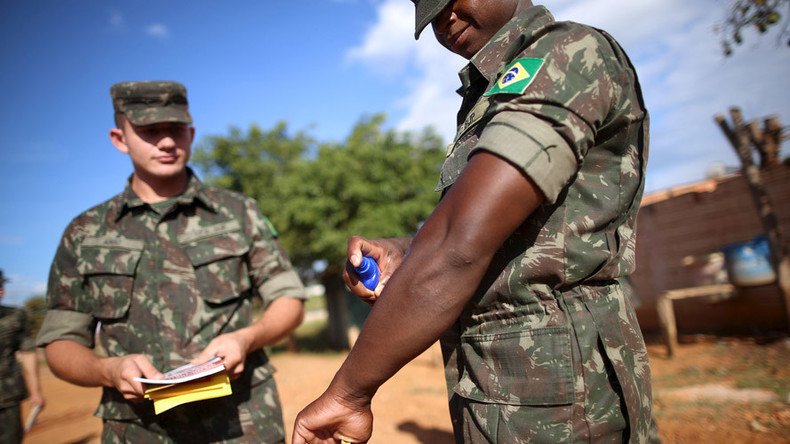 Rio Grande do Sul, a state in southern Brazil, has suspended the use of a chemical which kills mosquitoes that transmit the Zika virus, after scientists voiced concerns that it may be the actual cause of brain defects in newborns.
The use of larvicide, known as Pyriproxyfen, added to water to prevent the virus that is now spreading across the Americas, has been put on hold in Rio Grande do Sul, the regional government announced on Sunday.
Earlier, the Argentine group Physicians in the Crop-Sprayed Towns (PCST) issued a report saying the idea that the increase of microcephaly, a type of disorder characterized by underdeveloped brain and skull, is linked to Zika may be false. Instead, they claim that the larvicide added to water in Brazil is to blame for the growth of babies born with brain anomalies.
Though the link between neither Zika and microcephaly nor the chemical and microcephaly has been proved, the use of larvicide has been banned for some time.
"We cannot run that risk," Rio Grande do Sul Health Secretary Joao Gabbardo said, according to EFE news agency.
"The suspension was communicated to the 19 Regional Health Coordinating Authorities, which in turn will inform the respective Municipal Monitoring services" in Brazil, the state government said in a communique.
The Brazilian health ministry denied the notion that the chemical it supplies may be dangerous.
"That is a rumor lacking logic and sense. It has no basis. [The larvicide] is approved by [the National Sanitary Monitoring Agency] and is used worldwide. Pyriproxyfen is recognized by all regulatory agencies in the whole world," Health Minister Marcelo Castro, not convinced by the Argentinian scientists, told reporters Monday, as quoted by TeleSur.
READ MORE: Zika found in fetus may prove link between virus and severe brain defect – study
Pyriproxyfen has been approved by the World Health Organization since 2004 and the US Environmental Protection Agency since 2001. Its manufacturer, Sumitomo Chemical, said in a statement that "there is no scientific basis" for claiming that the chemical poses any threat to public health.
About 4,000 infants in Brazil have been born with microcephaly since October, while in 2014 there were fewer than 150 cases.
The virus spread from Latin America to a number of US states, including Florida, Illinois, New Jersey and Texas.
Zika was termed a global health emergency in early Februrary by the WHO.
You can share this story on social media: