WHO backs GM mosquitoes & bacteria to fight Zika virus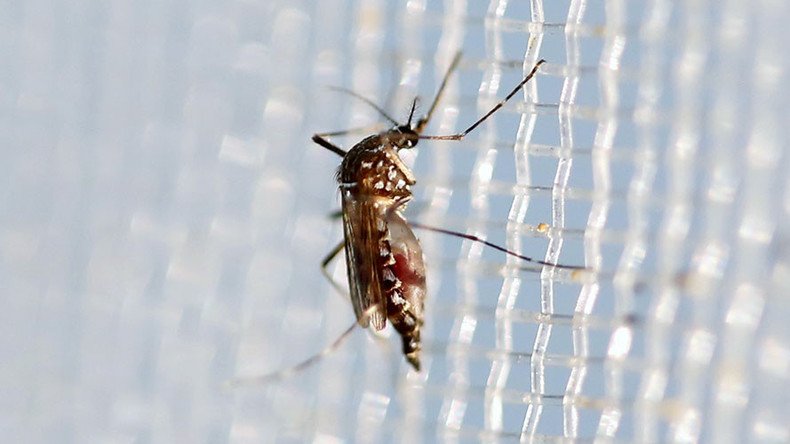 Countries fighting the Zika virus, linked to a spike in babies born with abnormally small heads, may have to resort to using GM mosquitoes and bacteria to bump off the Aedes genus, which is responsible for spreading the disease, the WHO said.
The World Health Organization said that following trials in the Cayman Islands, where sterile male mosquitoes were released to mate with wild females, its Vector Control Advisory Group has recommended the continuation of field trials involving genetically modified mosquitoes.
The WHO said that previous experiments in releasing sterile irradiated male mosquitoes en masse (a technique that has been developed at the United Nations' International Atomic Energy Agency) had been used by other UN agencies to control agricultural pests.
"Given the magnitude of the Zika crisis, WHO encourages affected countries…to boost the use of both old and new approaches to mosquito control as the most immediate line of defense," the agency said in a statement.
The WHO described the Aedes aegypti mosquito, which carries the Zika, dengue and chikungunya viruses, as an "aggressive" insect that uses "sneak attacks" to bite people. What's worse, the mosquito boasts "a remarkable ability to adapt."
WHO experts also said they recommended evaluating newer tools, including a genetically modified prototype mosquito, Reuters reported. In Piracicaba city, Brazil, 25 million genetically modified mosquitoes (called OX513A mosquitoes) were released in mosquito-infested areas between April and November last year. When genetically modified male mosquitoes mate with females of the same species, their offspring die at the larva stage. The strain was developed by Oxitec, the British subsidiary of the US synthetic biology company Intrexon. Oxitec said its OX513A mosquitoes reduced the number of wild larvae of the Aedes mosquito in Piracicaba by as much as 82 percent.
An alternative approach uses Wolbachia bacteria, which do not infect humans but cause the eggs of infected females to fail to hatch instead. Mosquitoes carrying Wolbachia have already been released to reduce dengue. The WHO said that large-scale field trials would be initiated soon.
Environmentalists have previously criticized the genetically modified approach, amid fears of the unknown long-term effects of eliminating an entire insect population. Given the speed of Zika's spread, some experts have agreed it might be necessary to use genetically modified mosquitoes, however.
"The way this is done wouldn't leave lots of mutant mosquitoes in the countryside," Jimmy Whitworth, an infectious diseases expert at the London School of Hygiene and Tropical Medicine, told AP.
Whitworth, who said that the Zika mosquitoes are an imported species that were accidentally brought to the Americas hundreds of years ago, believes their eradication wouldn't damage the environment.
Such a move would be unprecedented, however, and it would be impossible to know what the impact might be before the insects are released, he added.
"You would hope that the ecology would just return to how it was before this mosquito arrived," Whitworth said. "But there's no way of knowing that for sure."
Pesticide spraying has been intensified across Latin America, particularly in Brazil and Colombia, both of which have the highest number of reported Zika cases. The problem is, health experts say, fogging may fail to kill mosquito larvae in hard-to-reach places. Some 220,000 army, navy and air force troops have been deployed throughout Brazil to show people how to prevent the virus from spreading, AP reported.
The mosquito-borne Zika virus, has already spread to over 30 countries in the Americas. Earlier this month the WHO declared the outbreak an international health emergency. Although there's no definitive proof that it is directly causing the birth defects, scientists believe Zika could be linked to microcephaly (or abnormally small heads) in newborns, as well as to a serious neurological disorder in adults called Guillain-Barre syndrome.
READ MORE: 60% increase in week: Over 5,000 pregnant women in Colombia infected with Zika
In Brazil, over 4,300 suspected and confirmed cases of the birth defect have been investigated to determine whether they are linked to the mosquito-borne virus. Last week Colombia reported over 5,000 cases of pregnant women coming down with the mosquito-borne Zika virus. The total number of registered cases of the virus in Colombia stands at 31,555, the national health institute said in its epidemiology bulletin. While at least 12 groups are currently working to develop a Zika vaccine, licensed products could take "a few years" to reach the market, according to the WHO.
Last week Hawaii declared a state of emergency in a move to fight and prevent mosquito-borne diseases such as dengue fever and the Zika virus, which the state's governor called a threat to public health and welfare. Two American women who contracted the Zika virus while traveling abroad miscarried after returning home, the Centers for Disease Control said on Thursday.
You can share this story on social media: