Zika found in fetus may prove link between virus and severe brain defect – study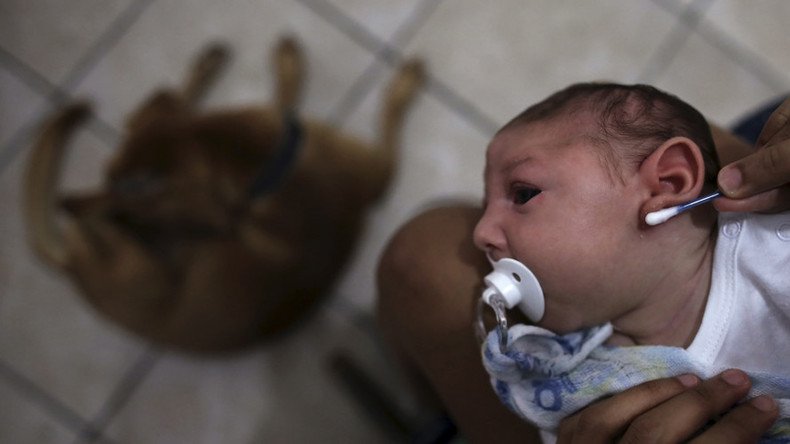 A group of researchers from Slovenia presented a first documented case of mother-to-fetus Zika transmission, moving one step closer to pinpointing the link between serious birth defects and the virus sweeping across the Americas.
The study published in the New England Journal of Medicine by scientists from the University of Ljubljana provides a report on a 25-year-old European woman "probably infected with ZIKV" who had to have her pregnancy terminated due to microcephaly found in her baby, a type of defect causing infants to be born with underdeveloped brains and skulls.
An autopsy performed after the surgery showed that the fetus had no other anomalies, while the detailed medical background of the woman revealed no sigh of genetic disorders.
The obtained information explicitly indicates the connection between the virus and abnormalities found in newborns, the study said.
The researchers were also able to recover the whole Zika virus genome that will contribute to further research.
In addition, infants born to mothers infected with Zika may suffer from eye abnormalities worsening with time and leading to blindness, another study published in the journal JAMA Ophthalmology on Tuesday, February 9, said.
Researchers monitored babies with underdeveloped skulls (smaller than 32 centimeters) over 21 days at Roberto Santos General Hospital in Salvador, where the Zika outbreak has been particularly severe. Retinas and optic nerves of ten infants were found affected. Seven babies had anomalies in both eyes.
"Congenital infection due to presumed ZIKV exposure is associated with vision-threatening findings, which include bilateral macular and perimacular lesions as well as optic nerve abnormalities in most cases," the study concludes.
The outbreak of the virus, first detected in December last year, is believed to have caused thousands of birth defects in Brazil. The virus has swept over Latin America and into a number of US states, including Florida, Illinois, New Jersey and Texas, in a matter of weeks.
Zika is transmitted through the bite of the "yellow fever" mosquito (Aedes aegypti). One in five infected humans feel only minor weakness, while most people show no symptoms at all. The main threat from the virus is to unborn children.
You can share this story on social media: