60% increase in week: Over 5,000 pregnant women in Colombia infected with Zika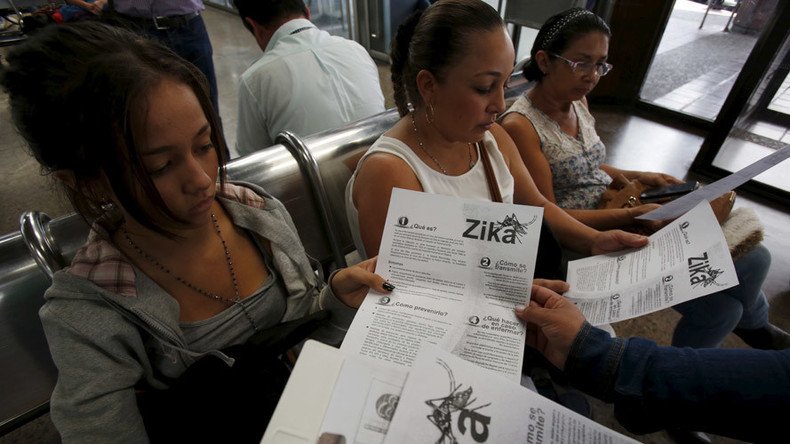 Colombia has reported more than 5,000 cases of pregnant women coming down with the mosquito-borne Zika virus. The number has increased by almost 60 percent over the past week.
The total number of registered cases of the virus in Colombia stands at 31,555, the national health institute said in its epidemiology bulletin on Saturday. This number has also risen considerably since last week, showing no hopes for a decline in the near future.
Colombian authorities have urged women to avoid getting pregnant because the Zika virus has been associated with serious birth defects such as microcephaly, which causes babies to be born with smaller skulls and brains. Women have been urged to delay pregnancy for six to eight months, while pregnant women with Zika have been granted access to much-restricted abortion services, Reuters reported.
Almost 30 percent of the pregnant women infected with Zika live near Columbia's border with Venezuela in Norte de Santander province, authorities said.
Nearly 12,500 people have been infected in the country's Caribbean region, which is popular among tourists.
The virus, which is transmitted through mosquito bites, has been spreading rapidly in South America since the outbreak began in December of last year. In a matter of weeks, it has swept onto other continents, largely through travel, officials believe.
UK authorities confirmed four cases of the Zika virus in Britain this week, which are reportedly "travel-associated" and not thought to have been contracted in the UK. Another case has been identified in China, local authorities announced, saying that the patient had recently traveled to Venezuela.
Some 220,000 army, navy and air force troops have been deployed throughout Brazil to show people how to prevent the virus from spreading, AP reported. Members of the armed forces, accompanied by community health agents and mosquito control teams, are expected to visit some three million homes this weekend in order to educate the population on how to eliminate the mosquitos responsible for transmitting the virus.
READ MORE: UN nuclear agency suggests using radiation to fight Zika mosquitos
The outbreak of the Zika virus has been declared a global public health emergency by the World Health Organization (WHO). It could eventually affect up to four million people, the WHO said. Colombia alone expects up to 600,000 cases this year, the country's president, Juan Manuel Santos, announced.
While the virus is believed to be particularly harmful to unborn children, much about Zika remains unknown. The Colombian government has said that there have been no recorded cases of Zika-linked microcephaly in the country so far, but officials warned the Latin American state can expect from 500 to 600 such cases this year.
Researchers have been trying to figure out whether the virus actually causes microcephaly. In Brazil, over 4,300 suspected and confirmed cases of the birth defect have been investigated to determine whether they are linked to the mosquito-borne virus. So far, researchers have identified evidence of Zika in less than one percent of the cases.
You can share this story on social media: