Prosecutor demands 6 years in jail for opposition blogger Navalny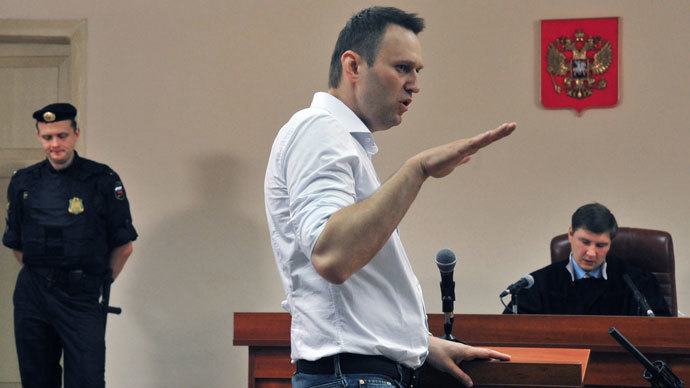 Prosecutors have demanded Russian opposition blogger and politician Aleksey Navalny is sentenced to 6 years in jail for his role in the alleged theft of property from a state-owned timber company.
Also the prosecutor asked the court to fine Navalny 1 million roubles (about $30,000) and immediately put the blogger in custody together with his alleged accomplice Pyotr Ofitserov.
Both Navalny and Ofitserov are standing trial over the alleged theft of property from the state-owned Kirovles company in the central Russian Kirov Region that took place in 2009. Back then Navalny worked as a volunteer aide to Kirov Governor Nikita Belykh, dealing with reforms of  regional industry.
According to the prosecution it was Navalny who ordered Pyotr Ofitserov to set up an intermediary company and then persuaded Kirovles director Vyacheslav Opalev to sign a contract with this company on unfavorable terms. As a result, Kirovles allegedly made a loss while the middleman company was making a profit. The overall damages to the state-owned firm amounted to 16 million roubles, the law enforcers claim.
Opalev has already been tried for his role in the case and got a 4 years suspended sentence. Navalny earlier claimed that Opalev agreed to testify against him and Ofitserov to get a softer sentence.
Navalny has repeatedly denied all the charges saying that as a voluntary aide for the governor he had no leverage to persuade the state executives to make decisions. He also calls the process against him political, claiming that this is revenge from the United Russia party for disclosing the corruption schemes, and general criticism of the parliamentary majority and state leaders.
The defense team claims the court has not ordered proper experts to study the real nature of relations between Kirovles and Ofitserov's reselling firm, and to explain the amount of damage.
Pyotr Ofitserov's defense claims that all relations between the companies were of purely a business nature and cannot be considered in a criminal court.
The Kirovles case has been opened and closed several times with the last re-opening taking place after Navalny attacked the head of Russia's main law enforcement agency in his blog. It is also not the only case against the whistleblower. Together with his brother, Navalny is suspected of organizing a similar scheme with the state-owned post company Pochta Rossii.

The sentence in the Kirovles case is expected to be pronounced on July 18.

37-year old Navalny has an extensive experience in Russian politics, but he reached real fame after founding the whistleblower website Rospil, disclosing alleged corruption by government officials. One newly-founded and yet unregistered political party sees Navalny as its leader, but the blogger is not officially heading it or is even a member.
Navalny has recently entered the race for the post of Moscow mayor, but he has not yet been officially registered as a candidate as he has not submitted enough signatures of municipal legislators who support him.
Curiously, the incumbent Mayor Sergey Sobyanin, called on the regional MPs to show some support to Navalny saying that this would make the poll more transparent and competitive.  Navalny replied by saying that the suggestion was a sign that his process would surely end in a conviction and a prison sentence and Sobyanin simply wanted to look good while being assured that his opponent posed no threat.

You can share this story on social media: