Investigators open criminal case against Russian whistleblower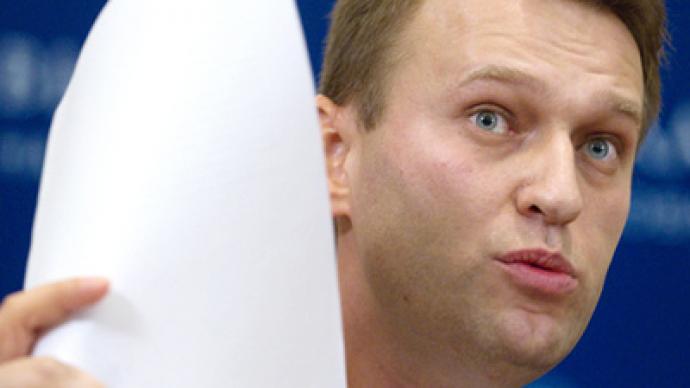 The Russian Investigative committee has started a criminal case against Aleksei Navalny – probably the best known Russian whistleblower and blogger. It is claimed the case is not connected to Navalny's truth-seeking.
The Investigative Committee said on Tuesday that it had opened a case against Navalny under the article "inflicting property damage by deceit or misuse of trust without signs of theft". If found guilty he could face five years in jail. The case deals with events that date back to 2009. "According to the investigation materials, in 2009 Navalny – as a volunteer assistant of the Kirov Region governor – committed a number of illegal actions as a result of which the regional state-owned enterprise Kirovles sustained especially large damage," the spokesman of the Investigative Committee told the media. He explained that the director of the enterprise had complained that Navalny had deceived him, promising support from the governor and tricked the company into signing a contract which only caused losses. The estimated damage was reported at 1.3 million rubles (about US$44,000). The case against Navalny, while being the first is not a new one. For over a year, various law enforcement agencies were opening and closing their case against him as it bounced from one to another. At some point the regional directorate of the Investigative Committee ruled to close the case because Navalny's activities could not be qualified as crime, but the central office of the agency ordered additional investigation and finally decided that the case should be started. Navalny, who communicates with the public mostly through his immensely popular blog on the LiveJournal blogging platform, wrote that the case was both fabricated and did not stand a chance in court. Navalny has professional training in law and he repeatedly described himself as a practicing lawyer, even though he is known to the public only due to his political activities. Navalny also claimed that the case was a demonstration of pressure from corrupt civil servants that he has been targeting in his latest project – Rospil. He also vowed never to stop his investigation. In an interview with Interfax news agency, Navalny said that he would not leave Russia so that no one could suggest that he fled from prosecution. "I have planned a couple of business trips but now in connection with the case I will not leave Russia. I plan to live my normal life because I am sure that all this will be disproved in our court," he said. Another well-known person involved in the story is Kirov governor Nikita Belykh. The official wrote in his blog that the investigators' claims lacked any foundation. "I would like to remind that the criminal case against Navalny is based on the testimony of a single person, former Kirovles director Vyacheslav Opalev." He also wrote that the main witness, Opalev, was himself under investigation on charges of abuse of office. Belykh said that though he did not welcome everything that Navalny was doing, any claims that concerned the Kirovles case definitely lacked any grounds.On Wednesday, the youth public chamber of the Kirov Region suggested that Navalny ran for the regional legislature as it would grant him immunity. Thirty-five-year-old Navalny started his political career in 2000 in the Yabloko party – one of Russia's oldest political parties with a strong democratic and liberal program. He quickly advanced in Yabloko hierarchy and became the head of the Moscow regional staff in 2004. However, he was expelled from the party in 2007 when he attempted to oust some of the old leaders. Officially, the party accused Navalny of nationalism, which was seemingly true as the man tried to set up the People movement which had a nationalist program. After leaving Yabloko, Navalny used his skills to found the democratic movement "Yes!" which did not last long but fulfilled what appeared to be its main task – it gave its leader Maria Gaidar enough political experience to become an advisor and later a minister in Kirov regional government under governor Nikita Belykh. He also launched a few lesser-known political projects.But the real success and fame came to Navalny after he started to protect the rights of minority shareholders in Russia's major corporations such as Transneft, Gazpromneft and Rosneft and also many others. At first, Navalny pressed for more transparency in corporate reporting but then switched to direct accusations of theft. None of these charges were ever proven and the court case with Transneft lingers to this day after reaching Russia's Constitutional Court. Activities as a minority shareholder led Navalny to the Rospil project (the name is a play on words suggesting that it fights the widespread practice of kickbacks in Russian business and state agencies). The project gained a lot of support on the internet and Navalny claimed that several thousand people have sent him money to keep Rospil afloat. In 2010, Navalny's blog received several awards for bold civil stance. At the same time, Navalny is extremely secretive when asked about his ultimate objective, sponsors and allies.
You can share this story on social media: