Libyan people should decide on the country's fate – Medvedev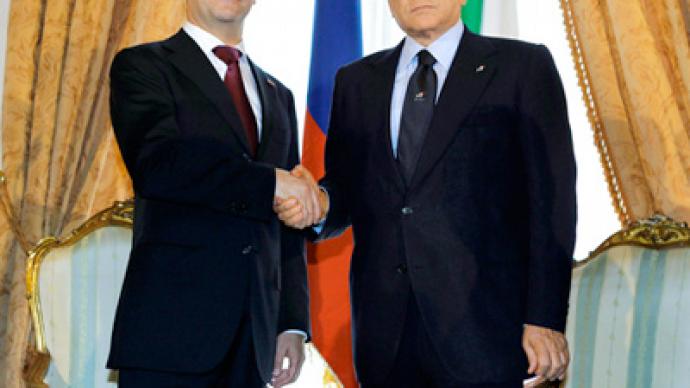 Moscow wants to give maximal assistance to the settlement of the Libyan situation through negotiations rather than military force, and to let the people decide on the country's fate, President Dmitry Medvedev has said.
The Russian president said he would discuss the Libyan issue at a tripartite meeting with Italian Prime Minister Silvio Berlusconi and US Vice-President Joe Biden. Earlier on Thursday, the situation in the conflict-torn North African state was touched upon during a meeting between Medvedev and Berlucsoni in Rome. "Today we exchanged views on the progress in the settlement of the current situation in Libya," Medvedev told the media after the talks. The Russian leader stressed that Russia would like "to promote in every way this problem to be solved not in the military ways, but through negotiations, so that Libyan people would decide on the fate of the country," cites Itar-Tass. He admitted that it is "not an easy" way and "according to some indicators that we are receiving, everything is very complicated there now."Speaking about the upcoming trilateral talks, Medvedev observed that the Libyan problem is not the only one as there are several other issues on which the partners should exchange information, "as the adjustment of positions is very important and a frank exchange of views is very important." Medvedev thanked Berlusconi for providing such an opportunity. "In any case, I never ignore a chance to meet with our American friends, since we have we have much in common, particularly the issues which we are tackling with close positions, as well as the issues which, unfortunately, alienate us and on which additional consultations are badly needed," Medvedev said. The planned creation of the European missile defense is among the topics that should also be negotiated, he stressed. As for Russian-Italian bilateral relations, the two states are set to further develop economic co-operation and joint projects. Medvedev noted that Moscow and Rome enjoy "really advanced" relations. Bilateral trade between the two states has been increasing and there are some new interesting projects.Berlusconi noted that Italy is the fourth-largest Russian economic partner and their ambition is to "become the third-largest in a short while." According to the Italian leader, Thursday's talks were rather positive and fruitful. He noted that Moscow and Rome always share similar approaches to international issues, adding that the two states are true allies – "more than other participants" – at international meetings.Medvedev, along with dozens of other world leaders, is attending celebrations in Rome marking the 150th anniversary of Italy's unification.
You can share this story on social media: