Russia may reconcile NATO and Libya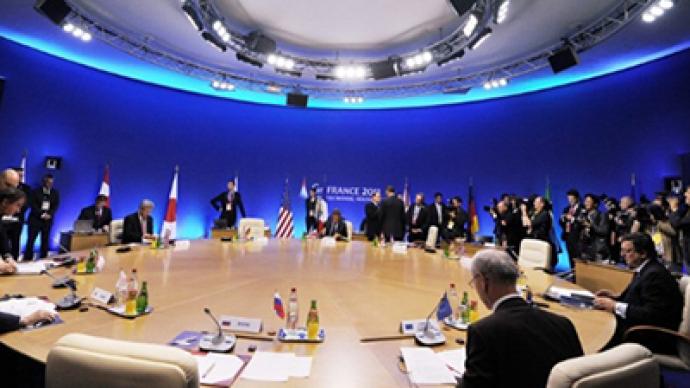 G8 leaders have asked Russia to mediate a cease-fire in the Libyan conflict, the Russian president's press secretary said after the first day of the high-level summit in the French town of Deauville.
Russia actually came to the G8 meeting aiming to try to influence G8 leaders on what is happening in Libya. It is no secret that Russia and China, on the one hand, and the West as such on the other, have very different approaches when it comes to the situation in Libya and North Africa and the Middle East in general.That is: Every time you get involved in the internal affairs of a sovereign nation, you have to be very careful about what you do. Russia does not feel that it is the way things are being done in Libya right now.Neither Russia nor China vetoed the infamous UN Security council resolution 1973 on Libya, but both made it very clear that they feel like the resolution has been manipulated in one way or another and that NATO's operation to protect civilians has become anything but that.It really looks like Russia is becoming a mediator in the Libyan conflict. Russia's foreign minister, Sergey Lavrov, has held negotiations with the Libyan prime minister, Al-Baghdadi al-Mahmoudi, who asked him to help personally in achieving a cease-fire. Obviously world powers felt like Russia is the country to go into the stalemate and try to get things done.Another major issue on the agenda is the euro crisis. The president of the European Council, Herman Van Rompuy, has already proclaimed "we will not let euro fail," which by itself is a recognition of the probability of such a course of events.European officials appear to be really scared at such a prospect, and are doing the best they can making "it cannot happen" statements and spending billions not to let it happen.A lot of bilateral meetings have occurred. President Dmitry Medvedev had a meeting with the host, French President Nicolas Sarkozy, and another one with US President Barack Obama. No doubt they have exchanged opinions on the situation in Libya.Another topic of the Medvedev-Obama meeting was missile defense. Russia lately has been raising post-signing Strategic Arms Reduction Treaty concerns that the US is not transparent enough when it comes to its future plans for missile defense. The Russian president also pointed out that he does believe in finding a solution acceptable to both parties when it comes to national security issues and even if the solution will only come with time, Medvedev and Obama have laid the groundwork for that to happen.
By looking to Russia to mediate the Libyan crisis, the G8 leaders have realized that the process of weakening or eliminating Gaddafi forces will take even more time while the Libyan opposition is not ready to associate itself with overturning the regime, noted Middle East expert Walid Phares from the Foundation for Defense of Democracies in Washington. By standing firm in the UN and not letting the allies broaden their mandate in Libya, Russia gained its unique position as a credible mediator in the conflict, believes Phares."Gaddafi knows that on the ground he will have to give a major concession – to end with a regime change, not brutally, but politically. If he rejects the Russian conditions or Russian mediation, then his fate is sealed," concluded Phares.
You can share this story on social media: