Russian MPs to consider bill on independent prosecutors
Published time: 30 Jun, 2011 14:05
Edited time: 30 Jun, 2011 19:13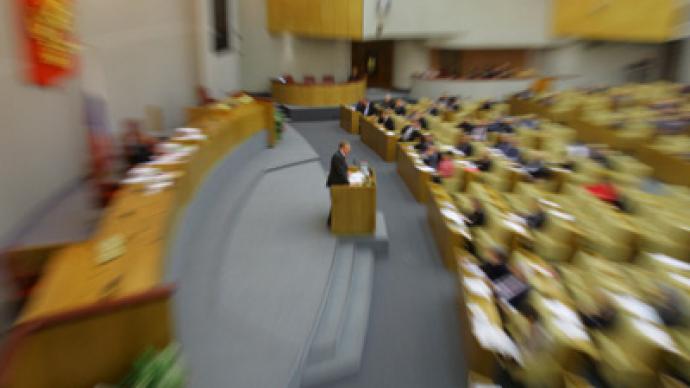 A new legal institution comprising independent prosecutors is needed to develop civil society and exercise parliamentary control, Anatoly Lyskov, a member of the Federation Council, believes.
­Lyskov, who chairs the upper house's Committee on Legal and Judiciary Issues, has submitted the draft bill to the State Duma. "The bill seeks to establish a new legal institution of authorized, independent prosecutors," he told Interfax on Thursday. They are needed to promote democratic institutions and civil society in Russia and to engender a sense of "legal responsibility in high-ranking officials," he stressed.

If adopted, the legislation will make it possible to provide effective parliamentary control over the decisions of the Prosecutor General's Office, Lyskov explained. It also creates a legal mechanism "for the evaluation of parliamentary investigations held by both houses of parliament."

Analysts believe the new legislation might have been also proposed as a means of stopping conflicts which erupt between different law enforcement agencies. Some of them have come into the spotlight in recent months, including the scandal involving prosecutors in the Moscow Region who were allegedly involved in an illicit gambling ring.  

"We have to react to information concerning conflicts between different agencies, though not for the sake of political jabber, but rather for rational reasons," Lyskov told Izvestia daily. A special mechanism or legal procedure is needed to resolve any conflict situation, the MP believes. Independent prosecutors would provide an "impartial institute to check the activities of people who occupy high-ranking posts in the state," he said.  

According to the draft bill, jurists who have a breadth of experience carrying out investigative activities could become independent prosecutors. However, they should not belong to a law enforcement agency at the moment of their appointment. They will have expanded powers, but all their decisions should be taken collectively to mitigate political malfeasance.

Gennady Gudkov, Deputy Chairman of the Sate Duma Committee on Security, has supported the submitted legislation. However, he added that the deputies would have to evaluate the advantages or possible limitations of the draft bill.

The deputy said that only the lower house should consider and appoint candidates as independent prosecutors. They should also have authorities equal to or even surpassing those that the Prosecutor General's office has.

It would be a first step in improving the function of the law enforcement system in the country, Gudkov said. Currently, the MPs from neither house have such sweeping authority, since they can only appoint special commissions to carry out investigations.