Russian investigators, human rights officials to probe opposition activist's torture claims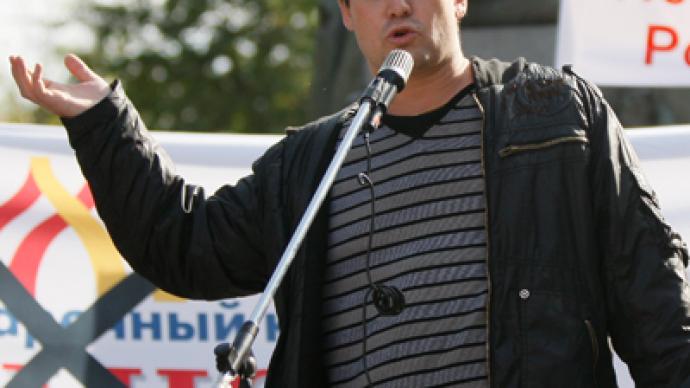 Russia's top law enforcement agency announced it will investigate claims of kidnapping and torture made by opposition politician Leonid Razvozzhayev, though no formal complaints were filed.
The Central Investigation Committee will also probe all media reports on torture or threats against Razvozzhayev, a statement published on the agency's website reads. An agency spokesperson elaborated, explaining that Razvozzhayev had not addressed the committee with reports of violence, kidnapping or other related acts.Razvozzhayev, a prominent opposition activist and official aide to State Duma deputy Ilya Ponomaryov is currently in pre-trial custody. On Tuesday, the Main Investigation Directorate of the Central Investigative Committee officially charged him with conspiracy to organize mass riots, a felony punishable by up to ten years in prison. Razvozzhayev was detained last week in the Ukrainian capital Kiev, as he reportedly sought asylum in the UN refugee agency. The activist's colleagues, reporters and bloggers claimed that he was kidnapped, but Ukrainian law enforcers dismissed these claims and Russian investigators say that he had turned himself in and made a written confession on 10 pages.As Razvozzhayev exited the court after the ruling, he shouted to journalists "tell them they tortured me!" The incident sparked media suspicion over law enforcement's methods, and prompted visits from Russian human rights activists and officials. Deputy chair of the Public Monitoring Commission Anna Karetnikova told the press after meeting Razvozzhayev that the activist had rescinded his confession and confirmed that he was tortured, though claiming the abuse was psychological in nature. A member of the Russian human rights NGO Moscow Helsinki Group, Valeriy Borshchev, claimed that Razvozzhayev spent nearly three days in a cellar in shackles without food, water or access to a toilet. He then was presented with a pre-prepared confession, which he signed, Borschev said.Razvozzhayev's lawyer Mark Feigin told the press that the defense will contest the confession as forced, and the whole arrest as unlawful. Feigin is famous for representing the defense in the recent trial of feminist punk band Pussy Riot.The case has already attracted international attention. The Council of Europe's Human Rights Commissioner Nils Muižnieks promised to raise the issue at his upcoming meeting with Russian officials, Russian opposition activist Boris Nemtsov claimed.The recently elected Coordination Council of the Russian Opposition – a collective body uniting the participants of recent street protests and their supporters – dedicated its first official proclamation to Razvozzhayev. The 45-member council, which includes Razvozzhayev himself, called upon authorities to stop pressuring the activist and to provide safety guarantees to his family. Russian authorities, however, have kept their distance from the case. "There cannot be any reaction. This is hardly a case that can be commented from the Kremlin and should be commented from the Kremlin. It concerns the investigators, prosecutors, judges, attorneys and rights activists," Vladimir Putin's press secretary Dmitry Peskov saidParliamentary majority party United Russia said they will not approve the parliamentary probe into Razvozzhayev's torture claims, arguing that the task falls to the Prosecutor General's Office.