Activist questioned over 'foreign cash for unrest' claims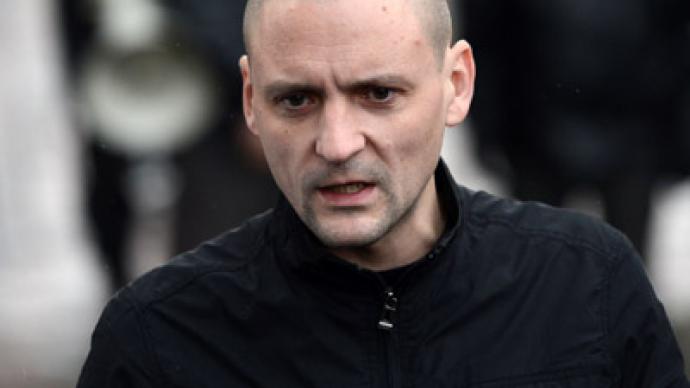 Leader of the Left Front Sergey Udaltsov has been questioned by Russian prosecutors over charges he was paid by Georgian officials to organize mass disorder against Vladimir Putin's government.
The questioning followed a TV documentary which claims to have evidence of his guilt.After the questioning Udaltsov was released under pledge not to leave Moscow, Investigative Committee spokesman Vladimir Markin reported.The spokesman also said that another suspect in the case – Left Front activist Konstantin Lebedev – was detained for 48 hours for future investigation.Russia's Investigative Committee has launched a criminal case against Udaltsov. If found guilty, the opposition leader could face up to 10 years in jail. Udaltsov and two other suspects in the case – his aide Konstantin Lebedev and Leonid Razvozzhayev, an aide of State Duma Deputy Ilya Ponomaryov – were summoned to the committee for questioning. Earlier on Wednesday, law enforcers conducted searches of their apartments. The proceedings were opened after investigators examined the claims made in a controversial documentary "Anatomy of a Protest 2" aired on Russian NTV channel on October 5. It exposed mechanisms used for providing funding to the opposition in the country in light of the rise of the protest movement in Russia following December 2011 parliamentary elections. The producers of the film showed what they claimed was footage of Udaltsov and his associates' meeting with officials from Georgia to plan mass riots in Moscow and other Russian cities. The participants of the gathering allegedly discussed sponsorship matters and, also, such ideas as an attempt to seize power in Kaliningrad – Russia's westernmost exclave.Expert analysis of the video received from NTV channel revealed no signs of editing, Investigative Committee spokesman Vladimir Markin said. It was also established that the voice in the CCTV footage used in the "Anatomy of a Protest 2" belongs to Sergey Udaltsov. The meeting shown in the film took place in the second half of June 2012 in the Belarusian capital, Minsk. Several Georgian officials, including chairman of the Parliamentary Committee for Defense and Security, Givi Targamadze, and Georgian Consul in Moldova Mikhail Iashvili were present at the meeting, Markin stated. Investigators will also check information about possible preparations for terrorist acts within the framework of the probe opened in connection with the controversial documentary. "Those who think they can with impunity organize mass disorder, plan and prepare terrorist attacks and other acts that threaten the lives and health of Russians, you underestimate the Russian special services' professionalism," Markin stressed. Russian law provides for punishment of up to life imprisonment for such offenses, he pointed out.Udaltsov – who had been earlier questioned in connection with the film – denied the allegations against him made in the documentary. He claims it was filmed by order of the Kremlin. The Left Front leader said he meets with many people of different nationalities, but stressed he had never had any contacts with "foreign special services and agents" and does not know Givi (Georgy) Targamadze."I categorically deny receiving money sponsored from abroad, not to mention preparing any violent acts," he told RIA Novosti earlier this month.However, investigators insist that during the previous questioning Udaltsov confirmed that he had met with Georgian nationals in summer 2012, "one of whom he named as Georgy Vasilievich." The opposition leader said he was exploring legal sources of funding for the Left Front movement.
Crime or politics? Opinions split
Irina Yarovaya, United Russia's MP believes the video shown in Anatomy of a Protest 2 is serious evidence of criminal intentions."I think the qualification 'preparations to organize mass riots' is only a tentative qualification. The dialogues the whole country saw and heard [in the documentary] indicated much more serious crimes," she told Interfax. Another member of the majority party, State Duma Deputy Speaker Sergey Zheleznyak, underlined that is important to prevent the individuals mentioned in the film from leaving Russia. Vladimir Zhirinovsky, leader of Liberal-Democratic Party, insists that "revolutionary" Sergey Udaltsov should be arrested immediately and sentenced to "15-20 years of penal servitude."However, Communist leader Gennady Zyuganov suggested that the case had been opened to intimidate other opposition activists. "Today everyone who looks at the emerging situation in the country differently is persecuted here," he told journalists on Wednesday. Anti-corruption blogger and opposition activist Aleksey Navalny claims the Investigative Committee had no legal grounds to probe Udaltsov and labeled the case as "politically-motivated and absurd."Boris Nemtsov, a co-chairman of the Republican Party of People's Freedom (PARNAS), urged everyone, regardless of their political views, to stand up for Udaltsov.Rights advocate Lev Ponomaryov, said he had examined Anatomy of a Protest 2 and came to the conclusion that it provides no facts proving that the now suspects were preparing for mass disorder. Meanwhile, Public Chamber member Maksim Grigoriev thinks the opening of the probe against Udaltsov was a natural reaction of the Investigative Committee after the broadcast of the NTV documentary. If the Left Front leader is innocent as he claims and the footage was edited, a court trial would help Udaltsov to be vindicated, Grigoriev pointed out.
You can share this story on social media: