New 'network' party aims to replace United Russia
Published time: 21 May, 2012 10:56
Edited time: 21 May, 2012 14:56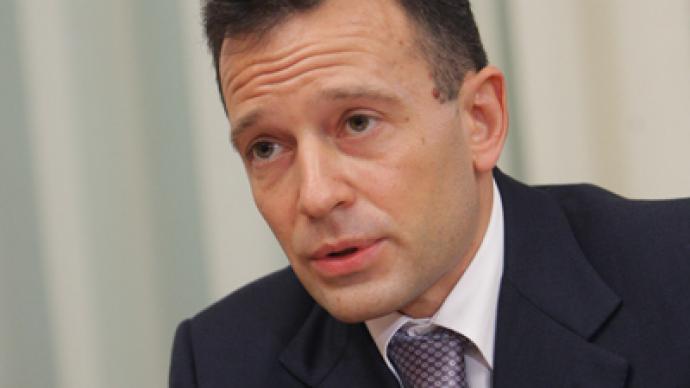 Founder of the pro-Kremlin movement Nashi Vasily Yakemenko is convinced that United Russia will lose the next parliamentary election. On Monday, he announced plans to create his own Party of Power.
­"I don't believe in the victory of United Russia in 2016, neither do I believe in changes, which it is unable to implement," Yakemenko stated during a press conference. 
"I suggest the people of the future create a party, take power, make changes and arrange everything in accordance with their views on what this country should be."
These "people of the future", he says, are those now aged between 25 and 30. The "self-organizing network party" will rely on the middle class, including activists involved in protests over the last six months, Yakemenko went on to say. 
His party will be critical of the current authorities and will bring to light all the drawbacks in the policies and functioning of the bureaucratic machine, he stressed. Still, it is expected to stay loyal to the president.
"It will be based on a 'Putin in a circle of enemies' ideology," Izvestia daily quoted a source familiar with the situation as saying.

The ultimate goal, as Yakemenko sees it, is to make Russia "the most comfortable place for living and working." To achieve this aim, he believes society should not divide into two camps, supporters and opponents of the current regime, because both "actually want the same" – for the country to get a new impetus for development. 
According to media reports, there are two more working names for the party, Intelligent Russia and United Indivisible. Analysts suggest that Yakemenko is aiming to claim the place currently occupied by the Lib Dems on the political arena. 
At the beginning of the year, Vasily Yakemenko announced he would step down as head of the Federal Agency for Youth Affairs, though he did not reveal his plans for the future. Later, Sports Minister Vitaly Mutko confirmed that Yakemenko would leave his post after the presidential election.