Nashi vs. Nationalists in Unity Day march-off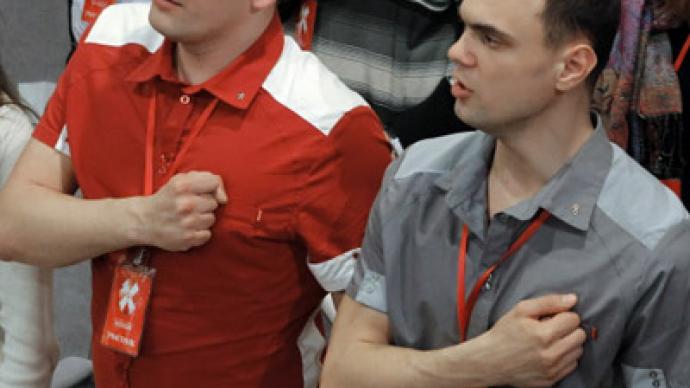 The Russian youth movement Nashi has said it is planning its own Russian March on the Day of National Unity when 10,000 people of various ethnic origins will celebrate their Russian spirit.
Nashi's event is planned as a response to the traditional Russian March – a rally of ethnic Russian nationalists who claim that the government's migration policy infringes the rights of the ethnic majority. This year the march will be held in Lyublino – a remote district in the south-east of Moscow. Initially the authorities sanctioned the rally of 10,000 people, but later the police asked the organizers to reduce the number of participants to 3,000. Last year the Russian March was held in the same location, and according to organizers, about 5,000 people took part in it.Participants in the march are mostly members of fringe nationalist and monarchist movements such as the officially banned "Movement against Illegal Migration." This year the organizers of the Russian march sent invitations for participation to opposition parties. The Communist Party of the Russian Federation refused to take part, saying that the march was held under aggressive slogans and Communists favored peaceful coexistence of various ethnic groups. On the other hand, such persons as the well-known anti-corruption activist and blogger Aleksei Navalny and the equally famous priest-turned-TV-actor Ivan Okhlobystin have announced their intention to participate in the march.The youth movement Nashi ("Ours" or "Allies" in Russian) sees its political mission as supporting the policies of Vladimir Putin and the United Russia party. It announced on Monday that on November 4 10,000 of its supporters would hold an "Alternative Russian March" at the All-Russian Exhibition Center – a large amusement complex in the North of Moscow. Nashi said that their event will unite those who are Russian by spirit and not by blood and therefore it will be a festival of many ethnic groups that live in the Russian Federation – with national dishes, costumes and dances.  The organizers have invited anyone who holds a Russian passport, knows the Russian language, honors Russian laws, loves Russia and wants to live there to take part in their event regardless of their ethnic origin.
You can share this story on social media: