I don't understand people – Zelensky 
The Ukrainian president described humans as "crazy" and expressed a fondness for dogs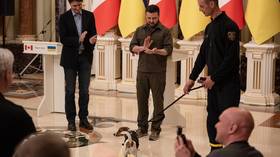 Dogs are "always funny" and seem to be a better option for Earth than humans, considering the many conflicts around the world, Ukrainian President Vladimir Zelensky told journalists on Wednesday.
The Ukrainian leader expressed his fondness for canines as he was wrapping up a virtual appearance at the Reuters NEXT conference. Zelensky contrasted the joy he gets from his pets with what he feels "looking at all these wars, looking at all the crises… not only Ukraine, [but] in Africa, in the Middle East."
"Sometimes I am looking at these and think that the best way if this planet will be the planet of dogs," he added. "Sometimes I don't understand people, really… Just crazy, crazy people."
The audience took the remark as a joke.
During the event, Zelensky expressed confidence that Ukraine could deliver "battlefield results" in the conflict with Russia, contradicting some members of Kiev's military leadership. General Valery Zaluzhny, the commander-in-chief of the Ukrainian armed forces, told The Economist last week that the conflict had reached a stalemate and that there was unlikely to be a "deep and beautiful breakthrough."
A Time magazine profile of Zelensky, also published last week, claimed that the president's belief in Kiev's eventual victory over Moscow was "bordering on messianic," while a presidential aide quoted by the outlet described the Ukrainian leader as "delusional."
In his video appearance at the Reuters conference, Zelensky claimed that Kiev had suffered significantly fewer casualties than Russia.
"I can say that they are for today minimum… five times less," the leader said, opening up one hand to stress the purported difference.
Neither Ukraine nor Russia publishes statistics on its own casualties. A classified US estimate leaked earlier this year put Russian dead and wounded at 189,500 to 223,000 as of February, compared to 124,500 to 131,000 for Ukraine. Both countries dismissed the figures.
Kiev has since failed in a major attempt to breach Russian defensive lines, reportedly suffering significant losses in manpower and weapons. According to Russian Defense Minister Sergey Shoigu, by late October Ukraine had lost over 90,000 troops in the counteroffensive.
You can share this story on social media: