Kiev's top general criticized for causing 'panic' in West
Valery Zaluzhny had said that Ukraine is unlikely to achieve a breakthrough during the ongoing counteroffensive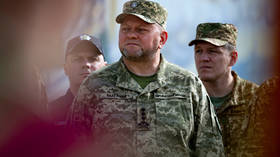 Ukraine's commander-in-chief Valery Zaluzhny should have kept his thoughts about the "stalemate" in the conflict with Russia to himself, Igor Zhovkva, the deputy head of President Vladimir Zelensky's office, has said. He also lamented that Zaluzhny's comments have rattled some of Kiev's backers in the West.
Speaking on national TV on Friday, Zhovkva expressed his displeasure with Zaluzhny's interview with The Economist published earlier this week. Speaking to the British magazine, the top commander, who has been in charge of the country's military since 2021, compared the Ukraine conflict with World War I and suggested that both sides had reached a level of technological prowess that makes "a deep and beautiful breakthrough" very unlikely.
The general also pointed out that "the biggest risk of an attritional trench war is that it can drag on for years and wear down the Ukrainian state."
Zhovkva argued that "the last thing I would do is comment for the press… about what is happening at the front [and] what could happen at the front," adding that this kind of revelation plays right into Russia's hands.
The official also pointed out that Zaluzhny's comments did not go unnoticed in the West. "I received a call from one of the heads of the offices of the leaders [of partner countries], and they asked in a panic: 'What should I report to my leader? Are you really at a dead end?' Is this what we wanted to achieve with this article?" he asked.
The criticism of Zaluzhny came as Ukraine's large-scale counteroffensive that has been underway since early summer has failed to gain any substantial ground. Russian Defense Minister Sergey Shoigu has estimated Ukraine's losses at more than 90,000 soldiers while claiming that Kiev's troops are suffering from low morale.
Meanwhile, Time magazine reported last month that some Ukrainian officials believe that Zelensky has become "delusional" in his desire to defeat Russia at all costs. "We're out of options. We're not winning. But try telling him that," one aide told the magazine. It also reported that the Ukrainian leader was looking for scapegoats after the counteroffensive failed to achieve the desired results.
The article sparked outrage in Kiev, with National Security Council chief Aleksey Danilov suggesting that those in the Ukrainian government who have any doubts about the country's ultimate victory should be sacked.
You can share this story on social media: