'We have a plan' – Zelensky
Ukraine will show "battlefield results" against Russia by the end of this year, the president has claimed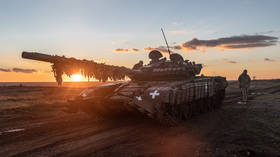 Ukraine has a strategy to continue its stalled counteroffensive push against Russia and will try to yield victories shortly, President Vladimir Zelensky has claimed.
The president made the remarks on Wednesday as he appeared at the Reuters NEXT conference via a video link.
"We have a plan. We have very concrete cities, very [concrete] directions where we go. I can't share all the details but we have some slow steps forward on the south, also we have steps on the east," Zelensky stated.
While largely avoiding naming any exact locations where such activities are expected to happen, Zelensky promised certain "good steps near Kherson Region," without elaborating further. Ukrainian forces have a plan for next year, but will "try" to show "battlefield results" by the end of 2023, Zelensky insisted.
"I am sure we'll have success. It's difficult," he added.
Zelensky's remarks contrasted with the assessment given by his top general, Valery Zaluzhny, in an interview with The Economist published last week. The top military commander claimed the conflict between Moscow and Kiev had reached a WWI-style stalemate, with Russia having better chances given its far larger population and vast resources. This may "drag on for years" and "wear down" the country, with a "deep and beautiful breakthrough" unlikely, he warned.
Zelensky has previously acknowledged the slow progress of the long-heralded counteroffensive launched by Kiev in early June. While "some people" expected quick success, the drive ran into "certain difficulties," Zelensky admitted. However, he somewhat shifted the blame for the lack of progress to Kiev's Western backers, stating the country received less weaponry from abroad than it had originally hoped for.
The botched counteroffensive has resulted in little to no territorial gains for the Ukrainian military, which sustained heavy personnel and material losses. According to Russian estimates, Kiev lost more than 90,000 soldiers in the push, with hundreds of military hardware pieces – including assorted Western-supplied vehicles – damaged and destroyed.
You can share this story on social media: