Moscow blasts US approach to Israel-Palestine violence
Washington's 'monopolization' of peace process undermines lasting resolution, Russian Foreign Minister Sergey Lavrov said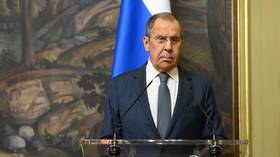 Moscow is deeply concerned at last weekend's surge in violence between Israel and the Palestinian militant movement Hamas, but finds the US approach to the crisis problematic, Foreign Minister Sergey Lavrov has said.
Washington's position is questionable "because they say: stop it all immediately, Israel must win, destroy the terrorists, and that's it," the top diplomat said on Monday.
There were many escalations in this long-running conflict, "and never after the situation calmed down were the necessary efforts to remove the main cause undermining stability in the Middle East undertaken," he added, referring to the fact that Palestinians don't have a nation state.
Russia considers a two-state solution, as outlined in resolutions by the UN Security Council, to be the only viable way towards stability, but neither Israel nor Washington appear committed to it, Lavrov noted. Quashing extremism without creating a viable Palestinian state cannot bring peace, he said.
Instead "the Americans are trying to monopolize mediation efforts" and focus attention on security problems, which are genuine, and discussions of how daily conditions may be improved for Palestinians, according to the Russian minister.
Lavrov reiterated that Russia considered violence directed at civilians unacceptable, regardless of which side perpetrated it. He condemned the practice of taking hostages, as Hamas fighters had during their incursion from Gaza into southern Israel on Saturday.
Of particular concern for Moscow is the threat that Russian citizens living in Israel face amid the escalation, the diplomat added, offering assistance to those who may seek evacuation from the country.
The minister made the remarks during a joint press conference in Moscow with Secretary-General of the Arab League Ahmed Aboul Gheit. He said the organization has recently achieved progress in reducing tensions between various players in the Middle East and was in a position to play a "definitive role in the complex improvement of the regional situation," including in the Israeli-Palestinian conflict. Moscow will back the League's effort, Lavrov pledged.
Washington has declared its full support for Israel in the hostilities with Hamas and sought to make members of the UN Security Council condemn the group during an emergency session on Sunday. Many Arab nations stated that Israel was at least partially responsible for the violence, due to its treatment of Palestinians.
Consecutive Israeli governments have been expanding Israeli settlements in occupied Palestinian territories in the West Bank, which are considered illegal under international law. The Gaza enclave, the domain of Hamas, has been under an Israeli blockade since 2007.
You can share this story on social media: