Pentagon sends naval armada in support of Israel
The US also vowed to provide the IDF with ammunition during its conflict with Hamas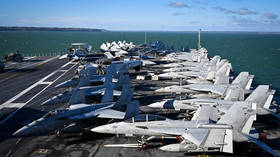 The Pentagon is dispatching an aircraft carrier strike group to the Eastern Mediterranean as a sign of support for Israel amid its ongoing battle with Palestinian militants.
The armada is led by the aircraft carrier USS Gerald R. Ford, and includes five guided missile destroyers. US Secretary of Defense Lloyd Austin said on Sunday that Washington would also deliver ammunition and other military equipment to the Israel Defense Forces (IDF).
"Strengthening our joint force posture, in addition to the material support that we will rapidly provide to Israel, underscores the United States' ironclad support for the Israel Defense Forces and the Israeli people," Austin said in a statement.
President Joe Biden had earlier promised to offer "all appropriate means of support" to Israel, which was the subject of a surprise attack by Hamas and other Palestinian groups on Saturday morning.
Although the IDF thanked the US for its support, Marwan Bishar, Al Jazeera's top political analyst, argued that dispatching a carrier group would lead to a "major escalation."
"The idea of this arms build-up in the Middle East at this point in time, it's dangerous," Bishar said on Sunday.
The militant groups began their attack on the Jewish state by infiltrating Israel from Gaza by land, sea and air. Some 2,500 rockets were fired and multiple Israeli soldiers and civilians were killed or kidnapped.
Israel responded with airstrikes on Gaza and has redeployed troops toward its southern border. The Israeli government officially declared a state of war on Sunday, invoking Article 40 of its Basic Law.
More than 700 Israelis and at least 413 Palestinians have been killed since Saturday morning, according to officials from both sides.
You can share this story on social media: